On the evening of our third day, Alvin's Uncle and Aunt treated us to a dinner at the CN Tower in Toronto.
Toronto is a 30-40 minute drive from Mississauga. Para yun yung central business district nila in Ontario.
Here's what I wore to dinner. When they said that we had to dress up, I bought new shoes from Nine West. Mura lang siya at the Outlet Stores.
The CN tower has 115 floors. It stands for Canadian National Tower.
From wikipedia:
The CN Tower is a 553.33 m-high concrete communications and observation tower in downtown Toronto, Ontario, Canada. Built on the former Railway Lands, it was completed in 1976, becoming the world's tallest free-standing structure and world's tallest tower at the time. It held both records for 34 years until the completion of Burj Khalifa andCanton Tower in 2010. Since then, it became the 3rd tallest tower in the world and remains the tallest free-standing structure in the Western Hemisphere, a signature icon of Toronto's skyline, and a symbol of Canada, attracting more than two million international visitors annually.
The restaurant on top is actually rotation (very slowly) so you would be able to have 360 degree view of Toronto while you're dining.
Food's great too! Fancy shmancy! =)
When ordering, they have set meals. You can choose from a 2 or 3 course meal. The 2 course meal is 65 Canadian dollars while the 3 course meal is 79 Canadian dollars. This already includes the entrance fee for the glass floor.
Anika and I shared the ice cream and cookie dessert for kids.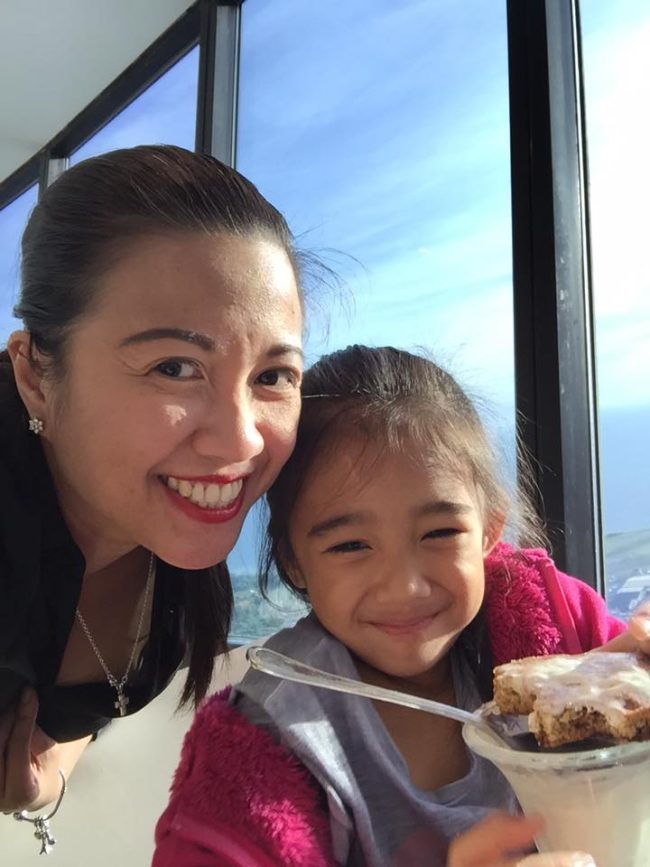 This is the glass floor viewing deck. Nakakangilo pero keribelles. Nakahilata diyan ang mga tourists while having their photos taken. I wonder how they made the glass flooring. I checked it out here.
We went down to their shops to get some souvenirs. Nandun sa Instagram ko yung video ng elevator ride. The elevator had a glass flooring too.
Anika and her cousin met Spiderman outside the CN Tower.
We went to this place in front of the City Hall to take some photos and para magchikahan while waiting for the others to arrive so we can have dessert in Marche Restaurant.
Anika taught her cousins how to speak in Filipino while we were waiting.
The Marche restaurant was just a short ride from there. I will tell you about that in another post. Ang cool kasi ng restaurant =)