Yesterday afternoon, I was in Sucat, I received a call from a crying and incomprehensible Anika.
ANIKA: Nanayyyy!!!! Blah blah blah! I fell! Blah blah big bukol! Blah blah so many blood!! They're taking me to the clinic!! Don't get mad at me!!! Waahhhhhh!
And then the line got cut.
Tapos naghang ang iPhone ko.
Punyeta yan!
I restarted my iPhone. Napaka-bagal!!! Gusto kong isumpa yung buong Apple company! While waiting, binalikan ko in my head what Anika said. She fell. May bukol. May blood. And they're taking her to the clinic.
Kayong mga nanay, can you imagine how I felt that day? I was so scared and nervous that parang may sumasakit na maliit na part sa puso ko. I was shaking. I wanted to teleport myself to CSA right then and there.
Finally after one thousand years, my phone came back to life. I called Alvin.
ME: Babe, tumawag si Anika. Iyak ng iyak. Ang naintindihan ko lang is nalaglag siya, may bukol, may dugo and dadalhin siya sa clinic.
ALVIN: Ano?! Anong nangyari?! Pupunta na ba tayo dun?!
ME: Babe! Concentrate! Tawagan niyo ni Lyn (Anika's yaya) yung bus driver. Alamin niyo ang nangyari. Maghahanap ako now ng tao na pwedeng pumunta kay Anika.
I texted Anika's adviser. It was way after dismissal time so baka she's on her way home na. I called my volleyball coach. She's Anika's godmother. I was worried lang na baka she's in varsity practice tapos hindi sumagot.
Thank God she answered her phone.
ME: Coach!!! Si Anika po nalaglag daw. May bukol and dugo daw. Hindi ko maintindihan kasi umiiyak. Dinala daw sa clinic. Paki puntahan please.
COACH: Sige. Pupunta na ako now.
 OMG. I feel so lucky Coach is in school!
I called Alvin. The bus driver said that Anika climbed the soccer goal post then nahulog.
Shit. I made Anika promise never to climb the goal post! I know a lot of people who already fell from climbing the goal post! When we were in Grade 4, John Paul, who was a classmate of mine, fell from there too. Ilang buwan din naka-cast yung arm niya.
After a few minutes, the clinic called me. They said ang bukol daw si nandun sa temple and may gash yung bukol. Hindi daw kailangan dalhin sa hospital. Coach's call was coming in call waiting so sabi ko I'll talk to Coach first.
COACH: Flora (she calls me that), wag ka na mag-alala. Ganito daw ang nangyari. Tumatakbo daw siya tapos nadapa daw siya tapos tumama daw ulo niya sa floor. May bukol dito sa may temple tapos may sugat. Pero hindi naman na daw kailangan dalhin sa hospital. Nilalagyan na ng ice now.
ME: Salamat Coach. Pero nalaglag daw yan sa soccer goal post eh. Hindi nadapa.
COACH: Eh yan yung sinabi niya sa akin. Tatanungin ko na lang ulit.
I called Alvin to tell him the news. The clinic said also that Anika is okay to travel back home via school bus.
Coach called again.
COACH: Nalaglag nga daw siya. Wag mo na pagalitan. Natatakot sayo kaya siguro hindi nagsabi ng totoo agad. Ganyan talaga. Bata eh. Hayaan mo na.
ME: Sige po Coach. Buti talaga nandyan ka.
COACH: Sinabi ko na din na pag-si Anika ang dinala dito, i-contact din ako.
I am so thankful for her!
Naluha ako ng slight because I remember all those high school days na I got injured while playing volleyball. Grabe mga sugat ko nun sa legs. Si Coach ang taga langgas. Alam niyo yun? Masakit yun! Bubuhusan ng water na may dahon ng bayabas yung sugat para magdry up agad. Yun ang langgas. She would do that to us because we have a game again the next day. Coach took care of all of us back then. She was our confidant and friend. And now, anak ko naman ang inaasikaso niya.
Nakaka-touch lang.
Anyway, when I got home, Alvin talked to me.
Sobrang takot daw sa akin ni Anika, nakukuha daw magsinungaling.
Yuh. I think I have to work on that. Anika and I need a Nanay-daughter talk again.
When Anika arrived, ang sigla sigla. Ang bungad sa akin is "Nanay! Nothing hurts naman eh! I'm totally fine!".
Hanep. Eh when she called me earlier akala ko end of the world na.
I checked out her bruise. It was ugly. Malaki by her temple and color green and purple na.
I told Alvin, "Babe, dalhin natin sa ER. Para lang sure."
Off we went to the Emergency Room of Asian Hospital.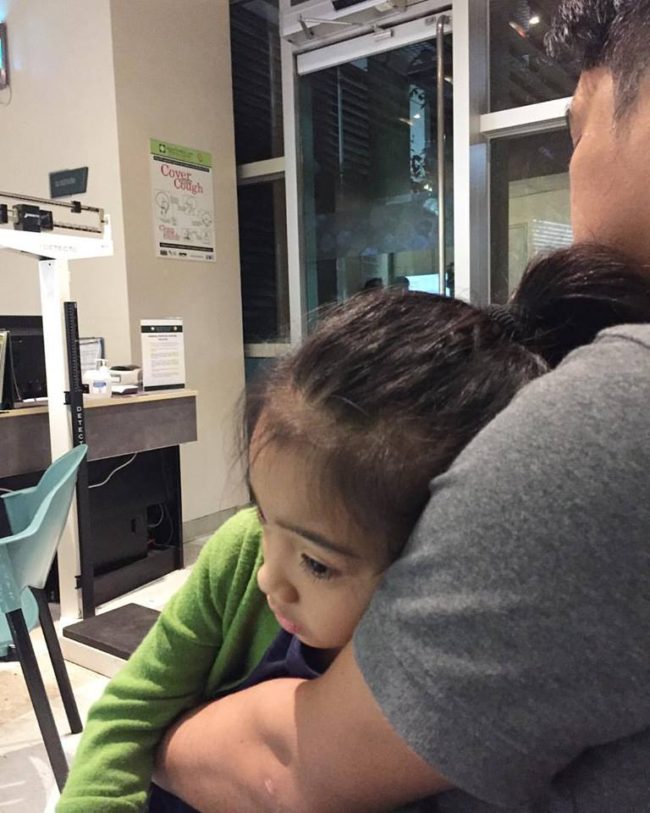 The doctor asked us how high was the place where Anika fell from. Alvin said that Coach mentioned around 3 feet. The doctor recommended to have a CT scan. Ganyan daw pag nalalaglag from places 3 feet and above. Pero they have high tolerance for CT scan for kids because of the radiation.
Ayaw ni Alvin ipa-CT scan.
Ako gusto ko.
Nagtalo kami.
Na-stress siguro si Doc so she said that we can get back to her na lang when we have a decision na.
I googled the effect of the CT scan radiation to kids. Hindi naman fatal. Mas mataas lang ang radiation ng CT scan compared to XRays. Pwede cause daw of cancer. Pero hindi naman lagi na-eexpose si Anika sa radiation.
ALVIN: For me, hindi na kailangan. I've seen worse. Wala lang yan.
ME: Osige Babe. But I'm telling you, if hindi natin ipa-CT scan si Anika tapos may nangyari sa kanyang worse because of this bukol later on, I will not forget this moment.
ALVIN: Sige, ipa-CT scan mo na.
We also consulted my sister-in-law. Benefit outweighs risk daw. Galing nga eh. That was what I was trying to explain to Alvin. I do not want to risk it. Hindi naman problema ang money because Anika has a health card. Bakit hindi pa kami makasigurado? Walang papalit sa peace of mind.
It wasn't nice seeing Anika lying there in the CT scan machine. Pero she was such a sport. HIndi umiyak and she followed instructions. Mas kinailangan kong i-console and i-support si Sombrero. Hindi niya talaga keri yung mga ganitong scenario when it comes to his daughter.
The CT scan results came out negative and we were so relieved.
I texted everybody including Anika's class adviser (because I worried her with my in the moment text message that afternoon) that Anika is alright.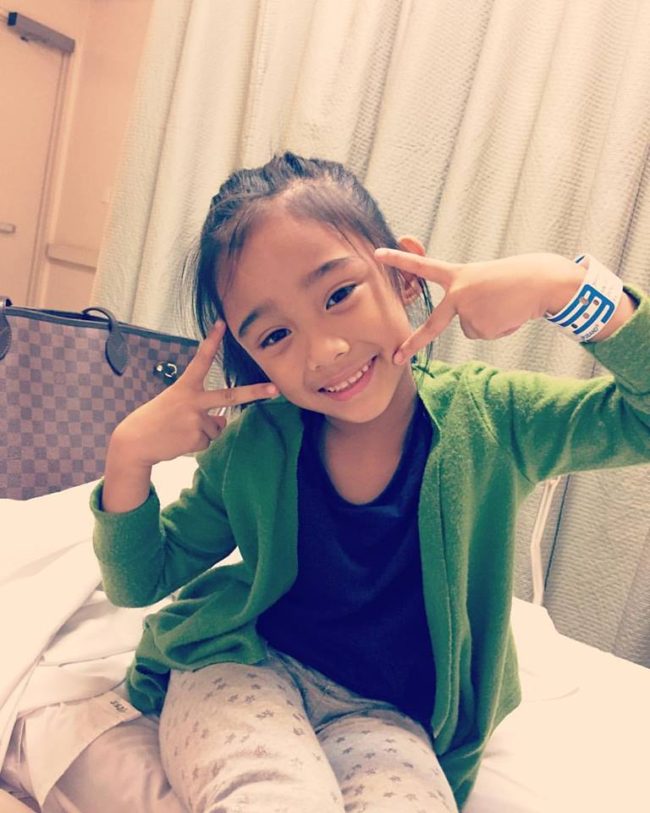 She's still under observation for 48 hours. May mga bilin ang doctor for signs to look out for. She's okay now and I'm with her. Nagleave ako so I can monitor. I will be bringing her also to the pedia to have her cough checked.
Thank you for your prayers guys!