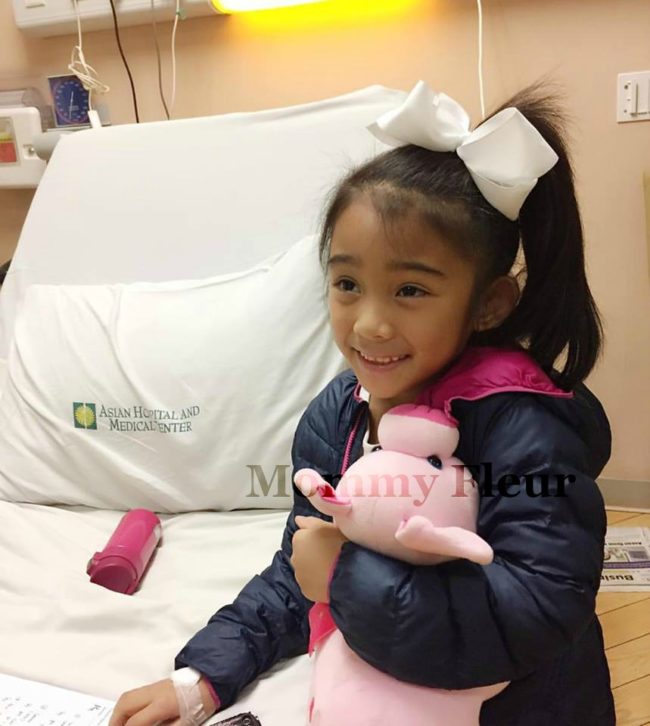 We were discharged from the hospital last night!
Ang sarap ng feeling of bringing your daughter home from the hospital, I tell you. The relief is overwhelming after going through all the stress and anxiety. My stomach is finally back to its old self. I was having an upset stomach due to nervousness the whole time we were there. I probably have lost 10 lbs kaka-LBM (sorry TMI).
There are a lot of you who are asking what happened and how we ended up having a 2D echo for Anika. I'll answer all your questions na lang here in this timeline that I made. Para na din for information of mommies out there.
It all started last July 21, Friday afternoon.
Friday afternoon – Alvin picked up Anika from school. When they arrived home, Anika had a 38 degree fever. We gave her Paracetamol.
Saturday – Anika had fever the whole day. It went up to 39.9.
Sunday, 2:30 am – Anika had a 40 degree fever and vomited. There was blood in her vomit and she started nosebleeding. We took her to the Emergency Room. The Dengue test was negative and her blood tests say that she has an Upper Respiratory Infection. So, viral siya. We were given instructions on her meds and were sent home. We were also told that for viral infections, fever usually lasts for 7 to 10 days.
Monday – On and off fever
Tuesday – On and off fever.
Tuesday night – When I got home, I noticed that there were small red pimple like spots around her mouth. A mom from her class told us in our Viber group that her son has Hand, Foot and Mouth disease. We took Anika to the Emergency Room again to check if she has HFMD also.
Her nose started bleeding again.
The ER pedia doctor said that it wasn't HFMD because her throat did not have sores. Onga pala. Pagmay HFMD, pati throat merong mga sores. We were about to be sent home when I pulled out this humongous blood clot from her nose. It was only then that the doctor realized that Anika's nose has been bleeding for almost an hour na. She ordered for a PT PTT test.
The PTT is used primarily to investigate unexplained bleeding or clotting. It may be ordered along with a prothrombin time (PT) test to evaluate hemostasis, the process that the body uses to form blood clots to help stop bleeding. (source)
The ER pedia nurse listened to her heart again. We were told to wait for an hour for the results.
After an hour, the doctor came back and told us that she has consulted with Anika's pedia. She heard daw kasi Anika's heart skipping. Anika's pedia asked us to be confined for observation. Just to be sure lang daw. Usually, a child's heart has irregular heartbeat pagmay viral infection so no need to worry.
Wednesday – Anika had low grade fever. Her pedia arrived and listened to her heart via stethoscope. Her heartbeat was irregular nga and we were referred to a pedia cardiologist. Gawan daw ng ECG si Anika. The pedia cardiologist saw us after that. He explained the ECG results. He confirmed the irregular heartbeat and he told us that according to the ECG results, the right side of Anika's heart is enlarged. There is also a probability that there is a hole in the heart kaya nagsi-skip ng beat. He asked a lot of questions about Anika's health history.
He informed us that there are cases when the heart has a hole and hindi nakikita sa newborn screening. They are hard to detect via stethoscope. This is the reason why some people discover that they have a hole in their heart in their teenage or adult years na. Naconfirm ko naman ito because I know a couple of people who had this case.
That was the time I posted in social media asking for prayers.
We did the 2D echo right then and there.
The 2D echo showed that there is no hole, the heart is not enlarged but the heartbeat is skipping.
They had the potassium level of Anika checked via blood extraction to know the cause of the heart skipping.
Thursday – No fever the whole day. The ENT doctor came and checked on Anika. He said that there is no need for a nasal Xray because it looked like na mabilis lang mag-erupt nung nose veins ni Anika. This is true for those who have allergic rhinitis like her. He gave discharge orders na for Anika for the ENT. After lunch, the blood test came out and showed that Anika has a elevated potassium level. The nurse told us that they were looking for a nephro for Anika. What the fuck was a nephro?! I googled and found out that a nephro is a doctor for the kidneys.
Nagtinginan kami ni Alvin.
What the hell was wrong with Anika's kidneys?
Ayun gusto ko na naman umiyak. I googled and saw that if the kidney is malfunctioning, hindi niya natatanggal sa body yung excess potassium kaya nag-ha-high potassium.
I went to the chapel to pray the rosary. Nagnovena na din ako kay St. Jude.
Anika's pedia arrived around 4pm. He apologized because the nurses stressed us out. Hindi naman pala kailangan ng nephro! He didn't order for a nephro. Sabi niya stand by lang daw in case makita niya na we need it after he sees us. Hindi na dapat nakarating sa amin na we need a nephro. The elevated potassium level can be retested after she gets well from the viral infection. In short, the viral infection can be the one causing all these!
He explained to us that the ECG and 2D echo were necessary because he didn't want to risk anything kasi heart yung involved. The 2D echo showed that the heart is fine. Nagsiskip nga lang ng beat but that may be due to the viral infection. ENT is also fine.
He can imagine daw our stress kasi nosebleed lang, bakit magiging apat ang doctors ni Anika!
Ditto. Yan na yan ang iniisip namin ni Alvin.
Since Anika did not have fever the whole day, the cause of her nosebleed was determined na and all the blood test including the PT PTT are okay (albeit the low WBC kasi nga may infection siya and the high potassium na hindi naman ganun ka-alarming daw), the pedia allowed us to go home na.
Music to our ears!
We were instructed to do the ECG and potassium checking again after Anika gets well.
So there. Nagsimula sa magtatanong lang sana ako if she has HFMD, nauwi na ganyan. It's okay though. At least nacheck lahat kay Anika kahit na kulang na lang atakihin kaming mag-asawa sa takot and anxiety.
Again, thank you so much for all your prayers. My family and I appreciate all of them!
Happy weekend!