Sulit na ako with this pre-loved flowy top that I bought from Tin of The Manila Fashion Observer.
Do you guys buy second hand clothes? Ako I do. Nothing wrong with that. Yung mga arte arte tops ko that I know I won't repeat naman that much, I buy from the Closet Raiders in Facebook. Sayang naman because they're in good condition. I have intentions of selling my pre-loved clothes too. I'm just waiting for the time when I can spring clean again my closet so I can sell them. Ang dami muthers! Nakakaloka. I wanna sell so that I can buy clothes with the money that I will get from it. Practical, right? Hindi nakaka-guilty magshopping again. Lelz.
Anyway, last Friday, na-feel ko how it is to be a taxi driver. I went to four of our projects that will be ready for occupancy very soon. We are preparing to welcome na our clients to these projects. I am beyond excited!
And tired. Lelz.
But that's okay. This is one of the things I love most about my job: seeing our projects start from ugly gray concrete to a beautiful building in a community.
First, I went to Zinnia Towers in Balintawak, Quezon City.
Then I went to Viera Residences in Scout Tuason, Quezon City.
And then I went to Sheridan Towers in Sheridan St. Pasig City.
And lastly in Lumiere Residences in Pasig City too.
I did that on a Friday. Imagine the traffic I had to go through.
Loka lokang tunay.
No more time to postpone kasi the walkthrough to next week eh. Sayang yung days. I wasn't able na nga to go to the necrological mass of the employees for our founder Mr. David Consunji that morning. Hataw na hataw talaga in preparation for these big projects.
I met up with Pineda at Taqueria 101 for a light dinner and drinks after that long day. I needed to unwind before I go home. Grabe yung traffic, mga mare. Exage talaga. But I was happy because it was a very productive day. And spending it with one of your best friends is the best way to conclude it.
Naturally of course, hindi pwedeng walang challenge ang lahat for a working mom like me.
In the middle of everything last Friday, the school clinic call me. I know, again di ba? Anika was at the clinic daw because she hit her head on the floor. Again.
Susmaryosep na bata talaga ito.
I spoke to the school nurse. I asked the basic questions: may bukol, nagsuka ba, nahihilo, nahimatay? Hindi naman daw nagsuka and nahihilo. But there is a small bukol at the back of her head but the nurse is not that sure also kasi weird ang shape ng head ni Anika. May naka-umbok sa likod. I talked to Anika and she said that she was running in the cafeteria, slipped and fell butt first then head. Alvin picked her up in school after that. Hindi na dinala sa hospital because she was okay and the bukol was so tiny.
When I got home, I asked Anika what happened. She said she wasn't running naman. She was walking very fast, then there was water daw and she tripped and fell.
Wait.
First, the floor of the cafeteria is not slippery even siguro with water. Hindi siya cement finish and hindi naman naka-tiles. Second, she said kanina that she slipped. Ngayon ang dinedemo is nagtrip daw siya. How can she trip and then fall backwards? Dapat forward, di ba?
ME: Anika, come here. I want you to tell me the truth. How did you fall?
She started crying.
ANIKA: If I tell you, you will get super mad at me talaga.
Sabi ko na nga ba.
It turned out, she was swinging herself in between two cafeteria tables during lunch break and fell butt first then head.
She was crying and crying while she told me that.
Pinagsabihan ko ng bongga, mga bakla. Hindi ko ito papalagpasin. But, nope, I didn't shout. Hindi ako nagwala. My voice was even and I was calm. I told her that I am more mad now, like 100x more mad compared if she told me sana the truth from the start. Na-iyak ako. I couldn't help it. I told her that there will be a lot more situations that she will encounter in her life like this and I don't want her lying to us about it. I asked her if hindi ba kami good parents to her at nagsisinungaling siya ng ganun sa amin. She was hugging me and saying "No, no, no! You are good parents Nanay. I'm so sorry!". She kept on saying sorry.
I didn't show her that I forgave her agad. Nagiging short cut kasi ang sorry niya. She thinks na magsorry lang siya, okay na ang lahat.
We told her to eat dinner na and we won't make sabay.
And then she slipped a note under our bedroom door.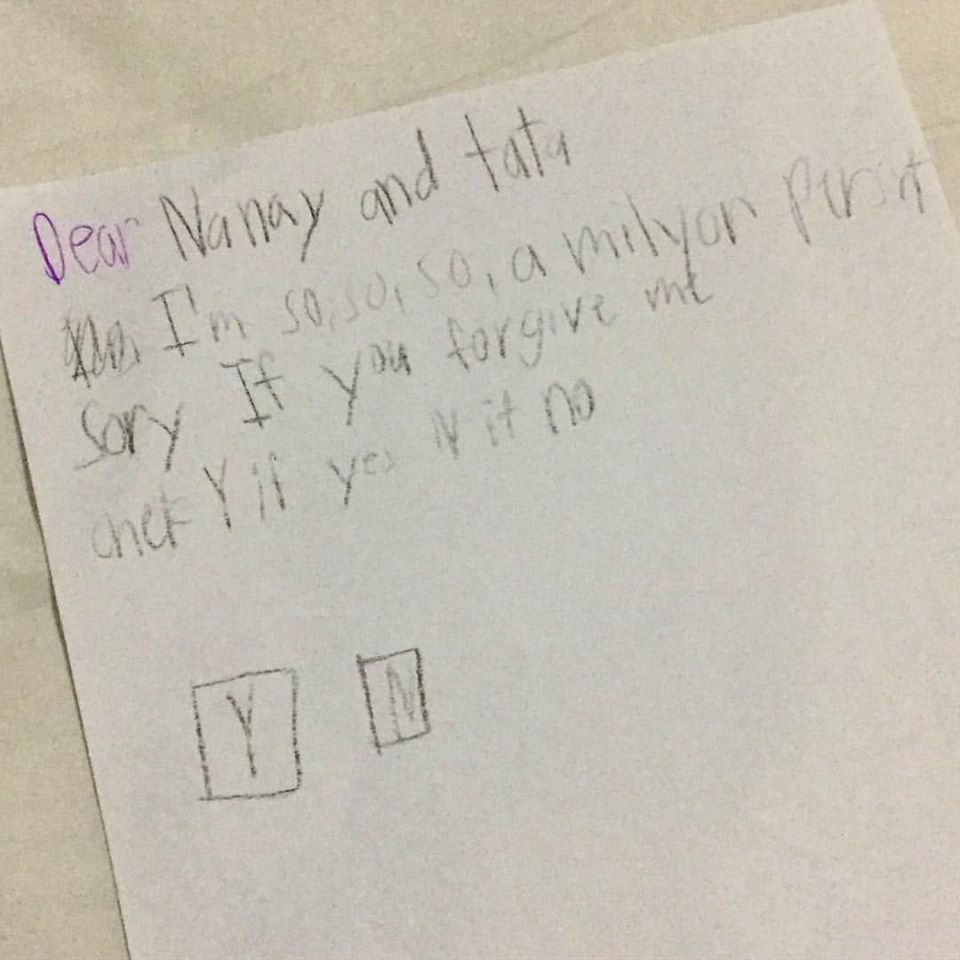 Emergerd. Tawa kami ng tawa ni Alvin! Ang taba ng utak.
We finally gave in before bedtime but not after talking to her about it again.
Lumalaki na nga ang anak ko. We are dealing with a different kind of problem na. Dati dati, we were teaching her about sharing lang. Now, eto, about telling us the truth naman.