Hi, everyone.
Alvin said that he thinks I'm getting better na daw. Kumokontra na daw kasi ulit ako sa kanya. Lelz.
Kidding aside. I feel better. The anxiety attacks come sparingly in the day. Halos maximum of twice a day na lang unlike before the medicines, 24 hours para akong nagpapanic ng walang dahilan.
Pineda and I were messaging each other yesterday. Iniisip lang daw niya. She said that if I can still smile, blog and post in social media now, then I can still control myself and my mind. I told her that I am functioning because of the anti-anxiety medicine. Naka-medicine pa din ako until now. It makes you feel relaxed and not palpitate all throughout the day. Habang it's making you relaxed, nakakapag-isip ka ng straight and clearly on how to control the anxiety. If macontrol mo na your anxiety, pwede na ma-simulan na i-pull out yung medicine dahan dahan. She said that hindi niya masyado naiintindihan. I told her, anxiety, depression or any mental illness is difficult to explain to people who do not have it. She said, she will just listen to me and support me kahit hindi niya nga masyado naiintindihan.
After a while, I messaged her again because I have not given Maeko and Mirko's birthday gifts. Pineda said that since we stopped messaging kanina until that time (ilang oras na din yung lumipas), she was reading and reading all about anxiety disorder. She wants kasi to be involved kasi ako ito. She wants to understand so she'll know how to handle me when I have my attacks.
Naiyak ako mga bakla. Napaka-swerte ko sa mga best friends ko. I have very few pero napaka-swerte ko. Ayan, naluluha na naman ako now. For someone who will take time to read and understand about the illness you have, ibig sabihin mahal na mahal ka ng tao na yun. I am praying na sana those who have like my illness too have people like Pineda in their lives. Si Vivian din. She insisted on meeting up with me during the long holiday. Among all of them, si Vivian kasi talaga yung nakakaintindi ng ganitong sakit. Si Janis naman made it to a point to visit me even for a short while dun sa ginagawa namin na house while we were there. Kwentuhan lang. I hope Anika will have friends like mine too.
My family, swerte din ako. Alvin, Wowa, Anika, Toots and his friend brought me to the beach the other day for an overnight trip. Everthing was fully booked but Alvin was able to find an airconditioned cottage at Virgin Beach Resort. I'll photo blog ha? I'll just comment every now and then.
Anika wore a dress from H&M, sandals from Payless, sling bag from H&M and her Jojo Siwa inspired bow.
We had lunch at the resort na.
Posting my OOTDs and our photos for this trip in my social media made me really happy. Parang naging outlet ko siya. Mind you ha, I am still taking my anxiety medicines two times a day until now. It keeps the anxiety at bay in the morning when dun siya sobra and it helps me sleep when I take it at bedtime. Ang ganda daw kasi ng smile ko and I look happy na in the photos. Malaki ang kinalaman ng medicines. I am going to tell my doctor na if sana pwede to start withdrawing it already. I feel kaya ko na to manage if the anxiety attacks again. Wag lang yung exage ha and wag lang may magkakasakit muna.
This swimsuit top is from Coco Cabana. Yung bottom old na. String kasi yung partner niyang top. Baka pa-uwiin ako ni Sombrero pag yun yung sinuot ko.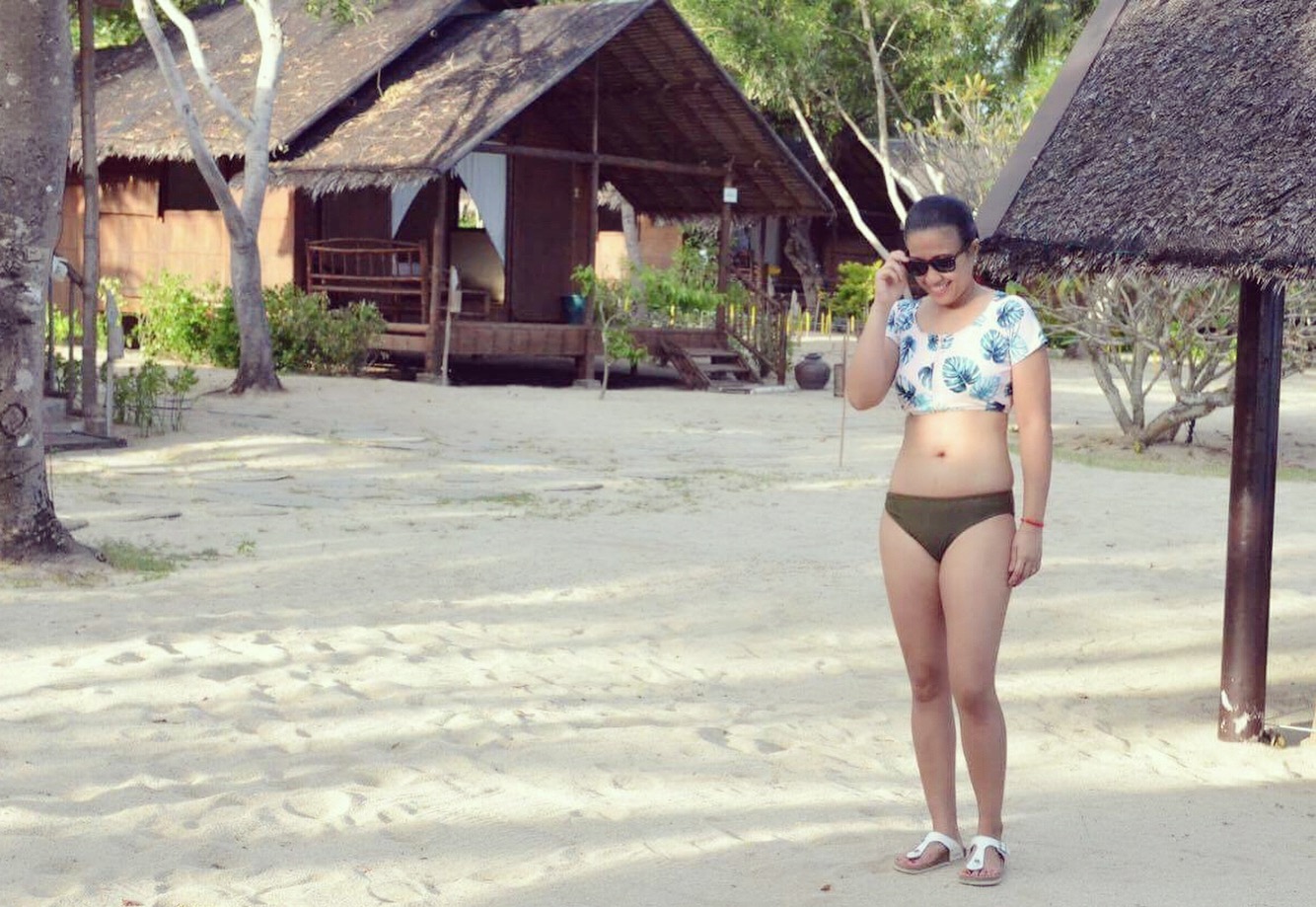 Yes, I lost weight. I lost 10lbs. I want to maintain it na by exercising. Exercise is recommended also by my doctor. It releases endorphins that your body needs.
This trip was Wowa's treat. Hindi din naman din kasi kami madalas magbeach. It was so much fun and relaxing. This was also recommended by my doctor. Pagmay ganito ka, you will do and try everything din to get well.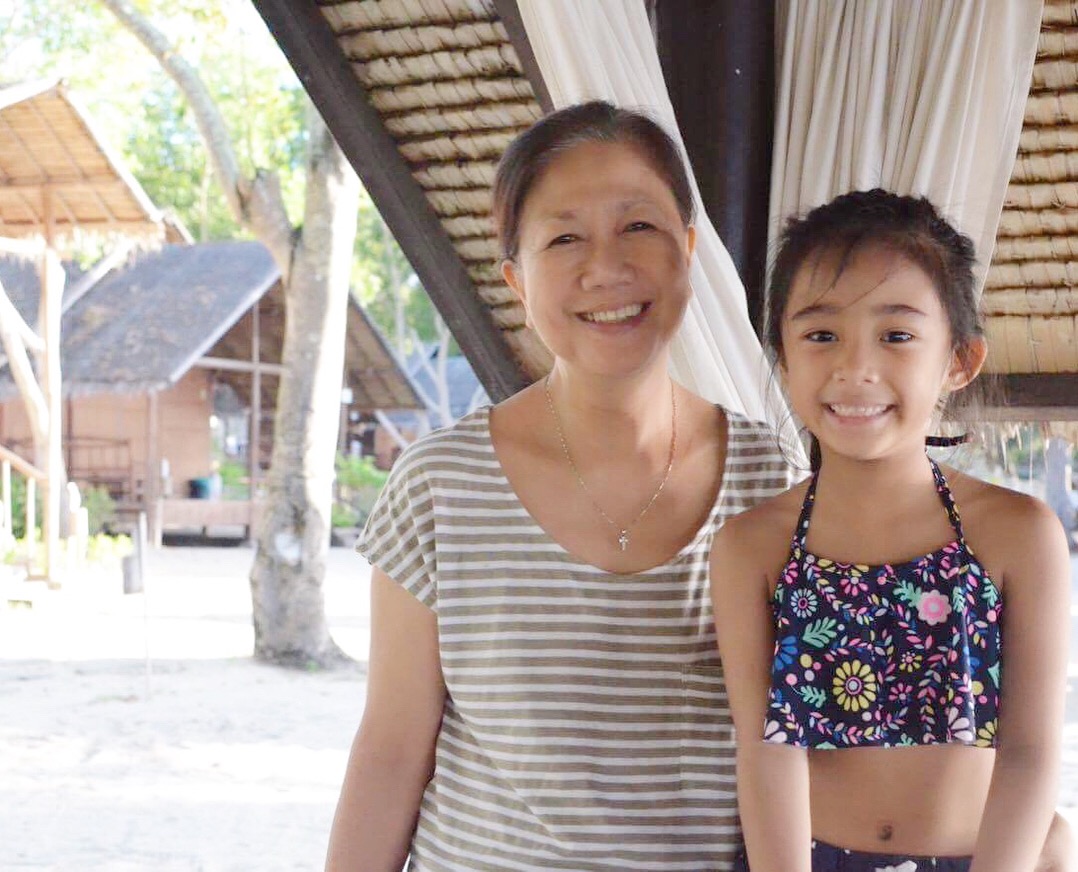 Alvin has never left my side since. Ang supportive, nagulat ako because he doesn't believe sa mga ganito before. Pero ngayon, he talks about it with me. He listens to me. He embraces me pagnagpapalpitate ako.
I am thankful for Wowa. Thankful ako retired na siya. She really does take time to go with me and make me kamusta often.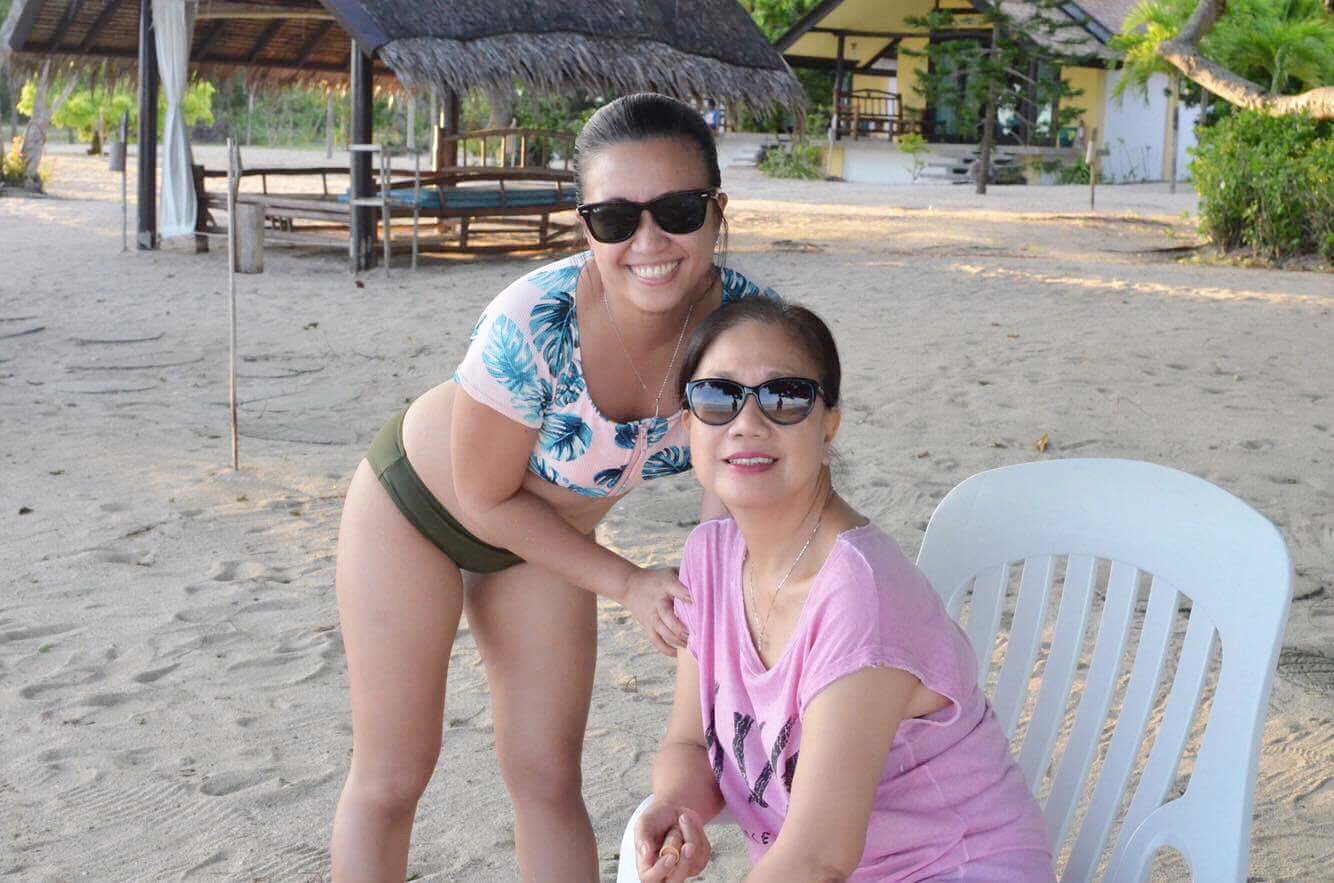 Anika loves the beach. I wish we can take her here often. Maganda yung fresh air sa kanya.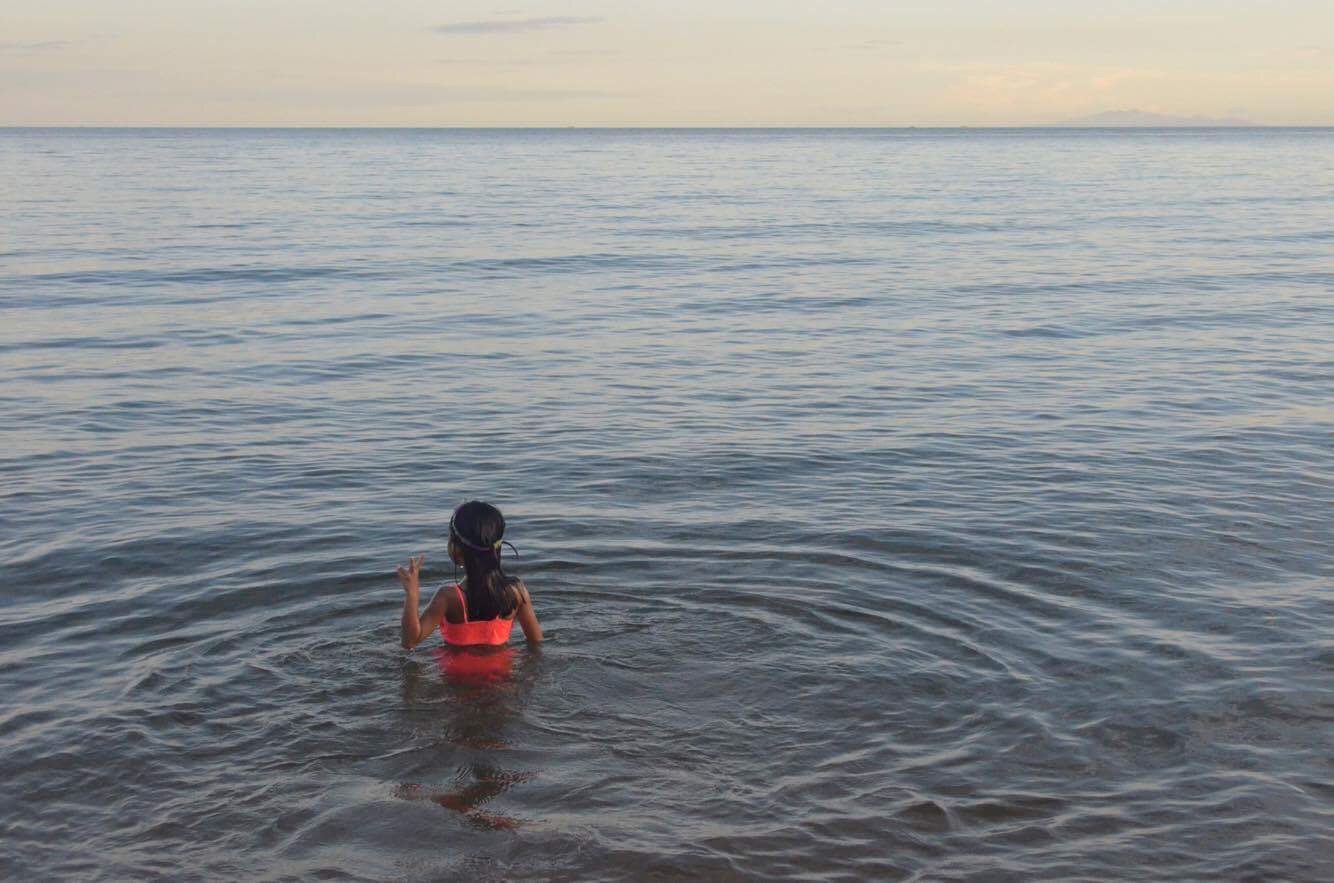 I forgot where I got this personalized swimsuit. It's one of my favorites pa naman.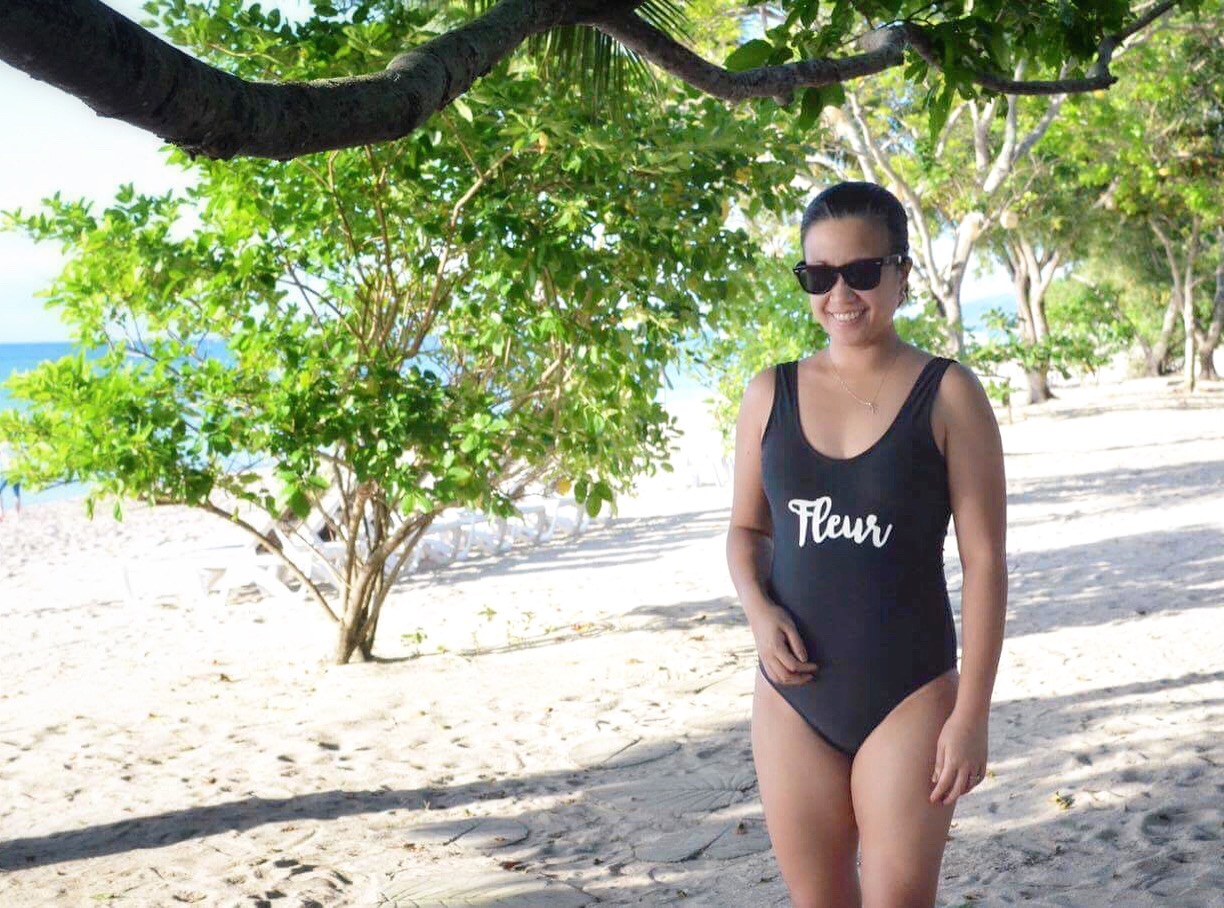 I got this swimsuit top naman from Topshop.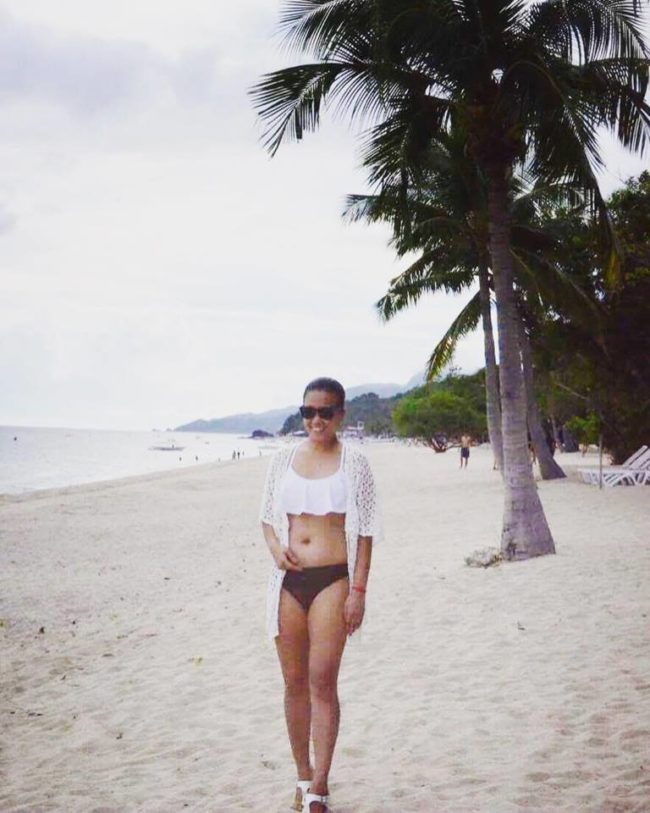 Anika is now taking interest in volleyball. Diyosko. Tuwang tuwa talaga ako. I am starting to teach her the proper form and the proper way of hitting the ball.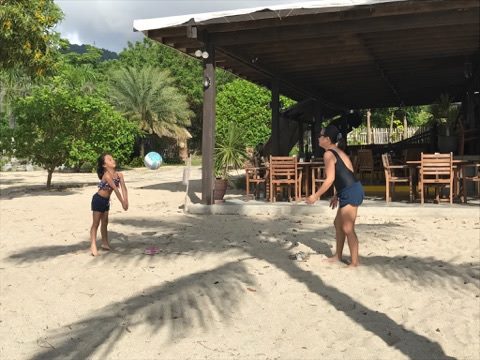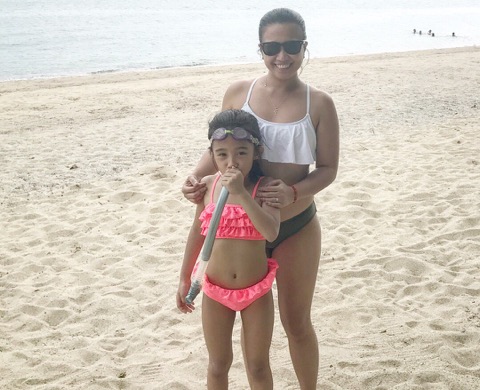 It's nice because we were all able to fit in one room. Ganda talaga this vacation na nangyari. Bonding na bonding.
Wowa and Toots napped in the afternoon. Alvin, Anika, Toots' friend and I stayed by the beach. Around 4pm, I told Anika to wake up na Wowa and her nongnong. Kako sunset na, tulog pa din sila. Hehe.
This overnight vacation really helped me a lot. Malaking malaking bagay siya for me. I am thankful we went.
Before I end this blog entry, I would like to encourage everyone to read about anxiety disorder or depression especially if you have a loved one suffering from it. Malaki matutulong niyo for them. Ang suffering nila is inside their mind. Hindi niyo yan makikita sa panlabas ng tao. There may be signs that they have na pasulpot sulpot but it's not easy to detect if you are not a specialist. Parang si Wowa. She told me ang ganda daw ng skin ko now. San ka naman daw nakakita ng tao with this illness tapos ang ganda? Naks. Thanks Ma. I also don't know. Baka kasi hindi kasi ako nakapag-make up ng 10 days and my skin was able to rest? Baka yun.
Do not be fooled with what other people project on the outside. You will never know what they are battling inside themselves. So let's all be kind to everyone because we do not know what they are going through. I'm telling you, you will not like to be in their shoes. Isusumpa niyo, promise. Only the bravest and the strongest survive this kasi matinding sheer will ang kailangan.
Osha, I am praying for a good day today since I'm back to work. Update ko ulit kayo guys. I hope the doctor will tamper off na the dosage of my medicine so that I can say I have fully recovered.
Good morning and have a great day everyone!