Good morning everyone!
Before I start my kwentos, magbigay pugay muna tayo sa outfit that I wore during our company Christmas party.
I am seriously in love with it!
I cannot believe that I only got it from the women's section of SM Department store. I was told that Anne Curtis wore a similar dress and I looked it up. Same na same nga! I would do a "who wore it better" photo pero nemen, alam ko naman na ang sagot. I dare not compete with The Anne Curtis kasi for sure pagfie-fiestahan ng mga bashers ko yan. Hahahaha! The dress was priced below Php 2,000 but I'm sure the one that Anne wore costs more. I looked up her shoes and well, ginaya ko na din. I found that white sandals at Rubi shoes. So weird because ang expensive pala ng mga sapatos dun!
Anyway, I'm still palpitating above normal. One of the things my therapist told me was to do different things or to try to look forward to something just to ease my mind off the palpitations. So yesterday, after my meeting in Pasig, I met up with Wowa at SM Aura. That mall is near where she lives and it's along my way home.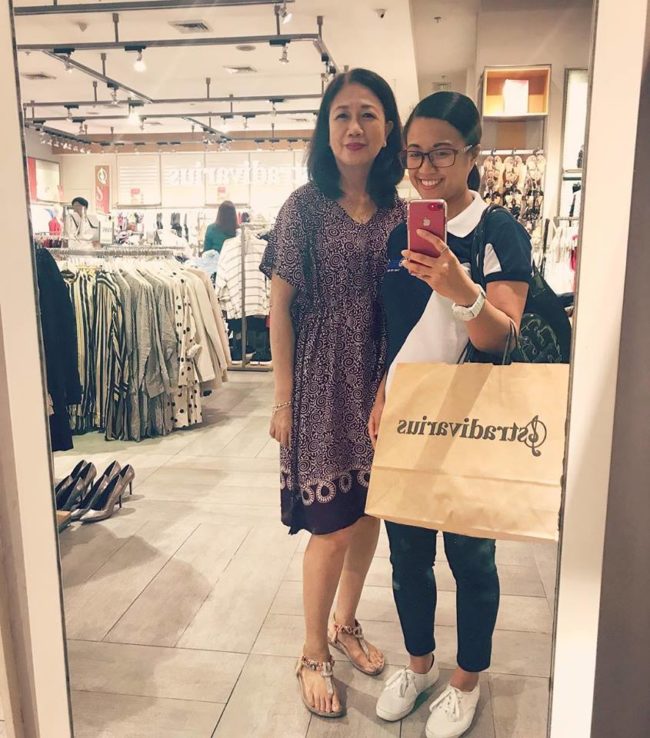 She met me at Stradivarius. I wasn't planning on doing any shopping yesterday. Ni-check out ko lang yung place kasi sale pa din. There were so many jackets and sweaters on sale! Ang gaganda. I wanted to buy this over sized pero sexy na knitted top however, lahat ng stocks may run. Sayang because 50% off siya. I tried this yellow faux leather jacket. It looked nice. Tinanong naman ako ni Wowa san kami pupunta why are we buying winter wear. Yan din kako tanong ko so tinigilan namin. Hahaha! Ending was I got this nice striped pants for the office for only Php 900 (50% off), a pair of shorts and a dress. I also got Wowa a striped pants but in gray. Ang ganda kasi sa kanya eh.
We had dinner at Providore after.
Masarap pala dun, mga bakla. Their servings are good for two so sulit na din their prices. Wowa said we'll go back together with the family next time.
Kinabahan ako ng slight kay Wowa when she turned serious and talked to me.
WOWA: Ako, Nana, may sasabihin ako sayo ha.
Shet. What is it?
ME: What?
WOWA: Wag na wag mong aakuin yung galing sumayaw ni Anika. Sa akin niya namana yun! They didn't call me the Dancing Examiner sa Sentral Bank for nothing!
God, I though kung ano na! Hahahaha!
Apparently, she dances Tango well and she performs every Christmas sa BSP parties.
WOWA: Ang galing ko nun. Kami lagi nung partner ko. Magaling kasi din siya magdala. Kaso ayun, hineart attack kaya hindi na din ako nagsayaw. Ayaw ko iba yung partner ko. Hindi magaling.
Ayun naman pala ang kwento ng dancing career ng lola niyo.
Kaloka! Hahahaha!
It was nice spending time with her. Good thing she's retired na so pwede mo na mayaya on a whim.
Anyway, today is the start of our Middle Managers Development Program. I am one of the chosen employees in our company to attend the classes. Para siyang Master's classes but compressed in 3 months lang. This is one of the things I am thankful for. Hindi lahat nagkakaron ng opportunity to have higher learnings na sponsored.
So there. I'll also be emailing tomorrow those who I'll be inviting for the Mommy Fleur at Bliss Bowl event this coming week. I'll be choosing 15 blog readers. First batch pa lang naman ito so I am looking forward to meeting everyone =) Sa mga gusto pang sumali, kindly leave a message in the comment section below =)
Osha. Have a nice day guys!