For Wowa's 65th birthday this year, she treated us to a two night weekend getaway in Clark. I googled and found the Green Canyon Eco Art Resort. Looks promising so we went.
We all met up at a fastfood restaurant in one of the gasoline stations at NLEX. In fairness, complete kami. The working peeps took a leave of work yesterday.
On the way to the resort, we passed by this huge bridge and I had to go down and made Alvin take my photos.
We arrived at Green Canyon resort. It's a private resort where security is quite strict. Magaling.
The resort is quite fascinating because the lobby is also a museum. Maganda. The pieces made by Niccolo Jose are displayed there.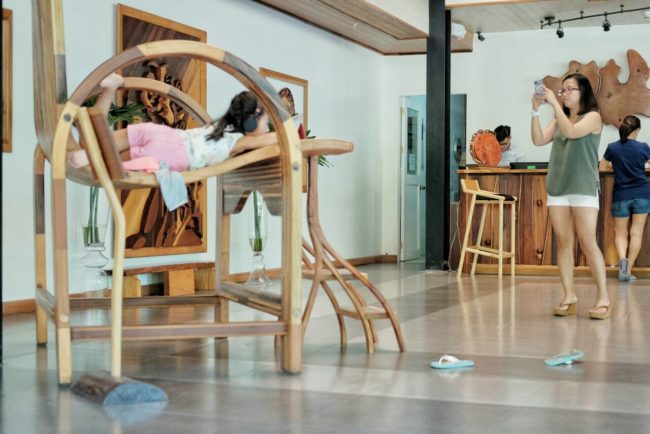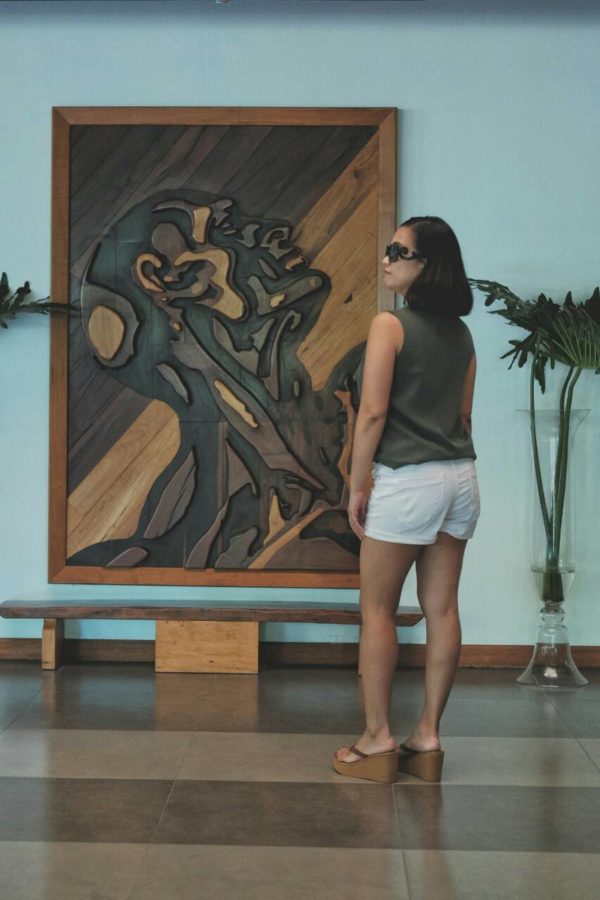 We arrived at the hotel at around 10am (I insisted to be out of EDSA na dapat by 7am kasi hell ang traffic given that it was a Friday work day). We weren't allowed early check in (despite not seeing any guests) so we just unloaded all our luggage and stuff at the lobby and went out to go to Puregold and to have lunch.
We had lunch at Binulo Restaurant. Here are the food we ordered.
We went back to the hotel at around 2pm. I like our room.
There were 6 single beds and 1 bunk bed. The bathroom was huge with two sinks and a separate toilet and bath. We got the room for around Php 12k a night. Sulit siya given 10 pax kami lahat.
Everybody slept when we arrived. Anika and I woke up after an hour and explored the grounds. I shall post the other photos that I took of the resort after this. Lahat ito halos galing sa iPhone ko lang eh.
Walking distance the Palette, which is their restaurant. Okay naman their food. Medyo pricey pero expected kasi shala ang resort.
The resort has two pools. One is the Symphony pool which is beside the restaurant.
Ganda ng view kasi mountains ang likod.
The other pool is a wave pool which is located at the other side of the resort accessible via this hanging bridge.
It was scary. I wasn't expecting it pero Anika and I managed to pass it back and forth.
After a while after they have all woken up, we met up with Niccolo Jose which turned out to be Fonz's schoolmate in High School. Galing! He toured us to his museum.
The wood pala used in the pillars outside the lobby are all 300 years old. And those paver tiles in the photo above, they bought it in a sugar plant in Bacolod for 5 pesos per block. They had it cleaned for 7 pesos per block. Ngayon mahal na isa niyan. Astig.
He told us about how their family bought the land and developed it. They were the ones who planted the trees. Out of the 300 trees they planted, namatay yung 200. Ang sad. Pero they continued planting so around after 10 years of acquiring the land, they opened this resort.
Niccolo Jose is a talented wood worker, sculpture and painter. I saw his works and I loved it! Ang gaganda talaga. Bawal nga lang to take photos inside the museum kasi yung ibang sculptures dun commissioned na. He has a lot of celebrity clients too. Magaling nga. I wanted to buy some kaso I have yet to sell one of my kidneys. Charot. Hahaha! For the meantime, eto nagpapicture na kami kasi sikat si Tito Niccolo!
One of the things I like about Green Canyon Eco Art Resort is that you are literally surrounded by nature.
Another thing I love here is that the wifi signal is strong. May wifi everywhere the resort. May cellular signal also sa bundok. San ka pa? =)
We had dinner at Grill Seoul. Masarap dun. I recommend it if you're here in Clark. Paki google na lang.
The next day, we woke up at 5am to go hiking at 530 am. Nung una kami kami lang. Eh nainggit si Wowa and si Toots so full cast ang hiking.
It was supposed to be a 45 minute hike up to the peak pero mahirap ang trail for a group with a senior citizen, a 4 month old baby, a reklamador 7 year old and for someone who has metal na in his ankle (Toots). We self declared our own peak after 20 minutes. Paano ganito ang dialogue:
WOWA to the guide: Ilang minutes na lang sa taas?
GUIDE: 20 minutes po.
WOWA: Ilang minutes pa hanggang sa taas?
GUIDE: 20 minutes po.
WOWA: Kanina pa yang 20 minutes na yan eh!
ME: Eh kakatanong mo lang talaga tapos hindi naman tayo umuusad!
Hahahaha!
TOOTS: Okay! We have reached the peak! We have reached OUR PEAK!
Kaloka!!!
It was fun though.
We did a pictorial na lang on the way down.
Anika's crying there because we saw a sign that said "Beware of snakes." Tapos tinakot ni Toots si Anika kunwari may kumagat sa legs niya! Hahahaha!
We had a hearty breakfast at the restaurant after. We had tocino, bangus belly, longganisa, eggs, corned beef and garlic rice. Masarap.
We went swimming afterwards.
Buti na lang kasama si Faye and Fonz. Meron akong mga matitinong shots na hindi sariling sikap. Love it. I shall sponsor them lagi sa trips para sure kasama sila. Ang hirap kasi magpapicture kay Sobrero, men! Pahirapan um-angle! Lelz.
Osha, papa-ahunin ko na tong si Anika sa pool so we can have dinner =)
There's a part 2 pa of this post ha? Wait for it =)
Enjoy the weekend!