God, gusto kong gawing Tinola yung mga manok ng kapit-bahay namin!
No matter what time I sleep at night, I always wake up at 4am dahil sa mga tilaok ng mga manok nila. When I wake up, hindi na ako makatulog niyan. My head hurts the whole day because of lack of sleep.
ME: Babe! Do something please! Tilaok ng tilaok yung mga manok nila! Ang ingay sa morning. Hindi ko talaga keri.
ALVIN: Natural titilaok yan. Manok yan eh. Magulat ka kung tumahol yan.
ME: Walang problemang tumilaok pero naman, sana maging less morning being sila! Hindi ba pwede i-program sila na 7am na tumilaok?! Nakaka-hassle talaga eh! Pahingi shotgun.
#Patola
Anyway, since I was required to exercise because of my condition, I started boxing at least 2 times a week.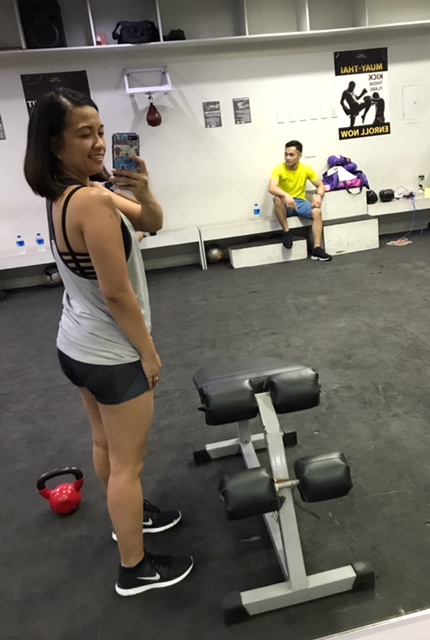 I also try to exercise sa gym during my non-boxing days. You know what happened? Hinahanap hanap na siya ng katawan ko. I think may pagka-psychological na din yun ng mind ko. But if I don't exercise, I really don't feel comfortable.
Okay naman the effect. Exercising releases endorphins so I think that fights off the bad thoughts kasi I feel happier. I feel happier also kasi because of exercising (combined with a balanced diet), gumaganda katawan ko. Nakaka-boost ng morale. But I still watch what I eat. Do not believe yung mga nagsasabi na nageexercise tapos lumalamon ng wagas everyday. Losing weight is 90% diet and 10% exercise. So kahit na magdamagan ka magboxing or magexercise daily, if lamon ka ng lamon ng unhealthy food that are high in carbohydrates, fat and sugar, hindi ka papayat. Hindi ka magkaka-abs. Ganyan.
So how do I do it? Paano ko nasisingit yung boxing sa araw ko and san ako humuhugot ng determination to exercise regularly? Paano ako pumayat? How did I lose 12 lbs?
First, you have to know that I lost weight because I am battling anxiety disorder. For a month (last November), wala akong ganang kumain plus LBM ako ng LBM. One of the side effects of my medicine was loss of appetite so I pretty much lost 10 lbs before Christmas last year. Because of my weight loss, I was inspired to maintain it. Sabi ko, this is it! Pumayat na din ako! Ilang months ko na winiwish na maka-kain ako ng panis para magLBM so I can lose weight faster and here I am weighing less 10 lbs. I wanted to maintain the weight. Although, never ko winish to lose weight because of this condition ha? Never do that. Do not even think about it. Hindi worth it yung pagdadaanan mong mental kalbaryo compared sa mawawalang fats sayo. Pero nandito na tayo eh. Losing 10 lbs to anxiety disorder inspired me to maintain it and have a healthier body. At least may magandang nadulot tong sakit na ito sa akin.
Next, you also have to know that exercising became a necessity for me. Because of my anxiety condition, I palpitate so much. Kailangan batak ang heart ko to be able to stand the palpitations hence, the exercising. Otherwise, baka magka-heart attack ako (knock on wood). Also, people with anxiety disorder are prone to depression. So to prevent depression, exercise helps the body releases endorphins which are the happy hormones. They enhance your mood. They naturally make you happy. Kaya kailangan ko ng exercise.
Pero balik tayo dun sa mga questions niyo kanina. Paano ko nasisingit ang boxing in my day?
That's easy, make time for exercising. Treat it as an appointment that you cannot miss. For example, I programmed my day to box every Wednesday at 630pm and every Friday at 530pm. Permanent schedule ko na yan. If in case, I cannot go on a specific Wednesday or Friday, I compensate sa ibang araw. Basta dapat at least 2x a week ang boxing. Involve your family. Alvin and Anika knows I come home later than usual twice a week because I go boxing. Okay lang sa kanila yun.
Where do I get the determination to go during lazy days?
Find someone to go with you when you exercise. Pero dapat hindi tamad yung gym or boxing buddy niyo ha? In my case, my friend Mayce goes with me every week. We have the same goal: to be stronger and to have a fitter body. Dapat you have the same determination to exercise otherwise magkakahatakan lang kayo ng katamamaran.
Also, buy nice exercise clothes. Ayannnnnn, excuse magshopping!! Pero marami akong kilala diyan na isang closet filled with gym clothes na ang meron tapos lima na ang rubbershoes kaso ni minsan hindi pa tumatapak sa gym. Hahaha! Kidding aside, mababaw but buy clothes that makes you feel sexy when exercising. Malakas siya maka-push lalo na pagnapaka-hirap ng circuit exercise na pinapagawa sa inyo. Titingin lang ako sa mirror and madidistract ako na ang ganda ng outfit ko then I go back to exercising. Lelz.
How to lose weight?
Wala nang ibang sagot diyan but to change your eating habits. I don't eat rice. I am not encouraging you to do the same kasi for some "kanin is life" lalo na pag Adobo or Sinigang ang ulam. But if you want to lose weight, you have to at least cut the portion of your rice and that includes food with high carbs, starch, fat, softdrinks and sweets. The hardest naman there is the first 3 days eh. If you want to let go of rice, 3 days lang titiisin niyo then masasanay na your body na hindi nagra-rice. Paano kayo mabubusog? Pumapak kayo ng gulay and ulam then uminom ng madaming water.
I only eat sweets and binge on junkfood during weekends. Cheat day ko yung Saturday and Sunday. We eat Sunday lunch at my in-laws place. That is the only meal in the week I eat rice. Wild sa sarap magluto si Ka-Lydia! Di mo kakayanin ang walang kanin at extra rice. Lelz.
There are time you will have temporary lapses like missing an exercise session or na-tempt ka ubusin yung isang pint ng ice cream (ako ito, true story). Do not beat yourself about it. May bukas pa. Pwede kang bumawi the next day. Do not stress yourself. Hindi ka lolobo bigla dahil dun. Lolobo ka if you do that everyday.
Drink lots and lots of water. Do this mga mare. Remember when we were still young, we like drinking water before eating tapos papagalitan tayo ng mga matatanda kasi mabubusog na daw tayo. Gawin niyo yan ngayon. I drink a glass of water before I eat. It curbs my appetite. You do not actually need to eat a lot per meal eh. You need small meals. Ideal is 6 small meals a day. Nakakapayat yun.
By the way mga bakla, you do not need to get those expensive gym memberships ha. I advise you wag muna sa start. Feeling ko kasi, basing on my experience, masasayang lang if hindi mo ma-maintain. Although others say naman to get one kasi mapupwersa ka to go and exercise. Again, basing on my experience, wag muna. Dun muna kayo sa medyo mura mura ng slight magstart. If keri, get a personal trainer. You can invest in that. Kasi after ka niya turuan ng mga things to do, pwede mo na siya wag kunin kasi you know na what kind of exercises to do. It's all up to you.
Again, this blog entry is only for those who want to lose weight. If ayaw niyo, walang problema. We are all beautiful regardless of how we weigh. Ang importante is mabait kayo. Bale wala ang super toned and sexy body if ang itim naman ng budhi. Divah?
Also, not everything here may be applicable to you. Consult with a nutritionist or an expert sa body building para mas sure. Ang pinaka-peg is to be stronger. My daughter is almost 8 years old and nagpapakarga pa siya sa akin. Isang dangkal na lang our height difference ha but I can still carry her because I am strong. I want to be able to carry her as long as she wants me to. Malapit na dumating ang panahon na hindi na yan magpapa-karga and I will miss it. Kaya sinusulit ko now. I also want to be able to run  after and take care of my grandkids kaya ako nageexercise. And pwera ka-plastikan, nageenjoy talaga ako na sexy ako. I am happy my clothes fit better. I do not do it for anybody except for myself. Bow.
So there, I hope nakatulong ako kahit papaano. If you have questions, shoot it dito sa comments section sa baba =)