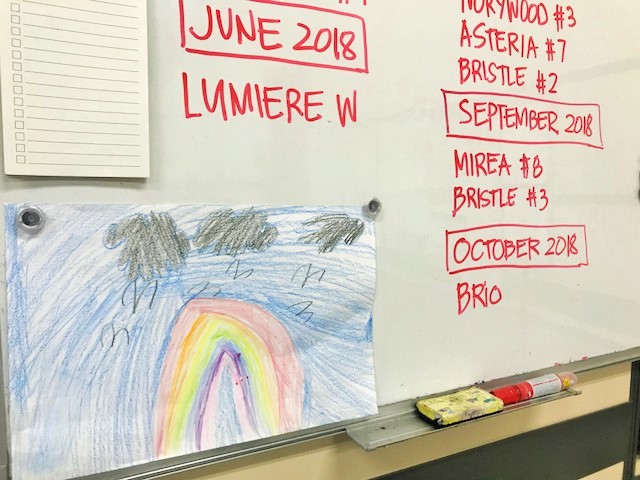 I was looking at my white board and saw this rainbow drawing that Anika made for me. Natulala ako ng slight.
I feel weird nowadays. Alam niyo yung feeling na okay ka pero hindi ka okay?
I cannot place it. My blogs have been far in between. I have not been blogging because siguro if may writer's block, I have blogger's block.
I have so many notes/topics in my phone that I'd like to tell you about pero hindi lumalabas ng kusa from me the natural words eh. What's happening to me? I feel so uninspired. Parang nawala ang daldal ko. Is this normal because I'm recovering from a disorder? I dunno. I feel sad because I love to blog. This is one of my safe places where I can be myself. Kaso parang naka-on guard ako lagi. Bakit kaya?
Baka shopping withdrawal? I have not shopped hard core for a long time. Baka this is it? Hahaha! Ang babaw.
Or because I'm obsessed with Netflix. Another LOL! But seriously, I am addicted with all the movies and TV series! First, there was The Crown. Then Star Trek. Then Lost In Space. And now, it's Riverdale.
I. Cannot. Stop. Watching.
Baka ito na nga. Nagshut down blogging utak ko because of sobrang addiction to Netflix. Hahaha! But seriously, puwera plug, if you want to relax, get Netflix. They have so many nice shows and original movies.
Or sadyang na-busy lang ako with everything.
Don't worry, I'm working on it. I will get my blogging mojo back =D