This year's mother's day got extra special because Oppo Philippines sent me the OPPO F7 to try out the camera.
By the red color alone, I was in love already. Lelz. Here are the basic specifications first before I rave on about it.
Size: 6.2 inches
OS: Android 8.1 Oreo with ColorOS 5.0
RAM: 4GB
Rear Camera: 16 Megapixels; f/1.8 Aperture; Autofocus; LED flash
Front Camera: 25 Megapixels; f/2.0 Aperture
Internal Storage: 64 GB
Expansion: 128 GB via micro SD
I tried the selfie feature the moment I opened the box.
Lemme tell you all about our Mother's Day weekend using all photos taken using the OPPO F7.
Yesterday (Saturday), Anika and I picked up LT, Faye and Isabel so we can go to Powerplant and have lunch with Wowa, Toots and Russ. Sunday dinner pa supposedly our Mother's Day dinner but Toots and Russ had a wedding to go to in Tagaytay so we had lunch na lang ng Saturday.
Like I said, the moment I opened the box, I tried out the front camera of the OPPO F7 immediately.
Walang edit yan ha. I love the depth feature of the front camera. It gives a nice bokeh effect. Also, the front camera automatically makes your skin look nicer. I am actually glowing in that photo!
Mommy Mundo had a Pop Up in Powerplant so we went to check it out. Janice was there. She's one of the moms I look up to. Ang galing niya to balance motherhood with all her businesses. Not only that, she's super genuinely nice. She's like a big sister to me.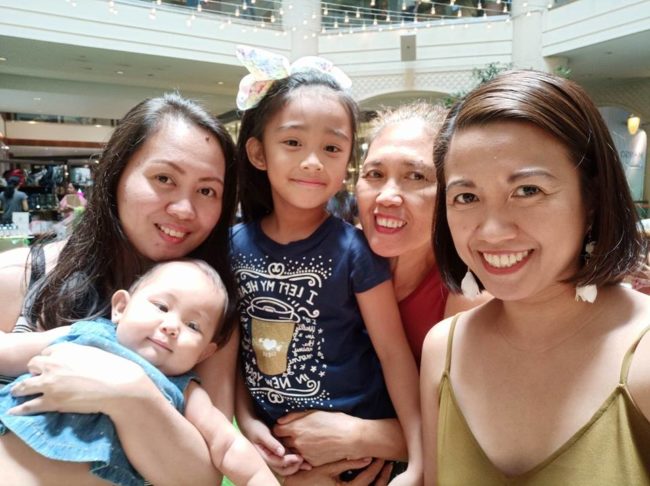 Notice the colors of the photos pop out and looks bright? I didn't edit them. Ganyan siya na natural. The front camera also instantly makes the skin look smoother. It's all in the settings. There are different kinds of beauty settings and photo filters you can choose from so you can upload it immediately after taking the photo.
After our lunch at Powerplant mall, Anika and I went home so she can get ready for her cousin's 7th birthday party. Anika's part of the cotillion.
Alvin and I were able to squeeze in a short  merienda date because Anika was practicing in the other room.
For the cotillion attire, the kids were asked to wear different colored long gowns. Yellow ang assigned to Anika. I got worried ng slight because LT can't make her a gown. We went to Divisoria na lang to look for one. We found this ready to wear yellow gown at 168 Mall at the wedding gowns floor. I bought it for Php 1,800.
Again, see how vibrant the color of her gown in the photo.
Earlier, Alvin and Anika gave me a dozen roses. Alvin forgot that I don't like roses but it's okay. It's the thought that counts and it was very sweet that they are still giving me flowers for Mother's Day.
This morning, we had breakfast at home. I bought BAKE cheese tarts at Powerplant yesterday. Wala na, ubos na yan by night time. For me, BAKE has the best cheese tarts ever.
By the way, last night, late na si Anika natulog. I wasn't allowed to go inside her room kasi she's making me a surprise. Even this morning, tinapos naman niya the other painting. She's really sweet. She was asking me what I wanted for Mother's Day. I told her I didn't want something from a store. I wanted something that she made.
She gave me three paintings. I love them because she made them for me. Made with love, ika nga. It's the best present better than any store bought gifts there are.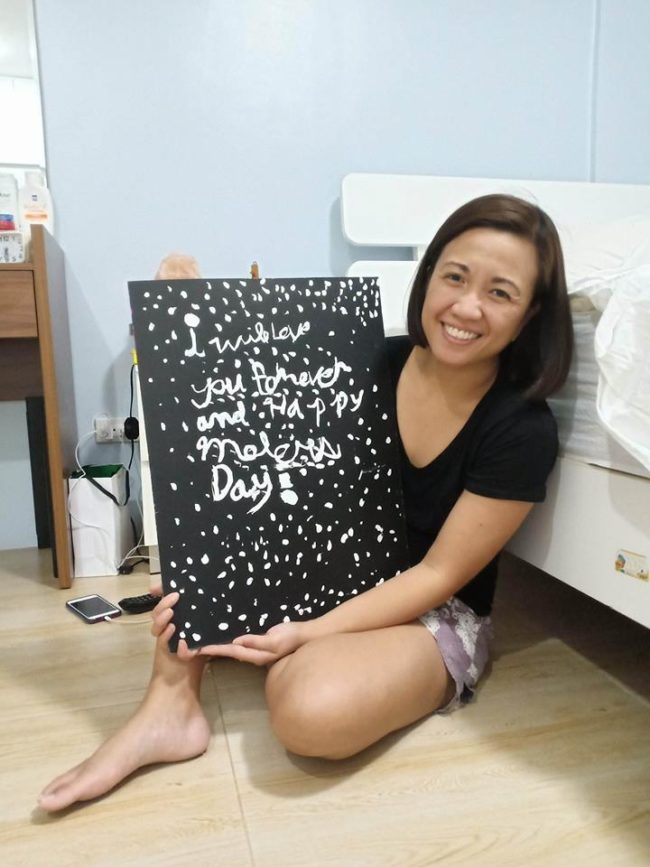 We went to SM Aura early. We heard mass and then had lunch at a Korean restaurant.
Of course there was cake too. Thank you OPPO Philippines for sending it together with the phone.
Here's a photo of my two loves. Anika likes dressing up to match Alvin. Minsan ang cute and sometimes nakakaloka din. She's kinda boyish in picking her outfits now, much to Alvin's happiness. Ayaw ni Alvin ang mga pekpek shorts and short dresses. I let her be. Time will come she'll go to me for clothes. I know it and I can feel it. Hayaan na lang muna natin itong time na ito kay Alvin. Hehe.
Before leaving for Aura, we passed by my in-laws house so Anika can give her Lola the Mother's Day flowers.
We went home after I bought two jackets for my Amsterdam trip. I'm all set na for Amsterdam when it comes to jackets. Konting OOTD na lang to wear underneath or dresses for Rome. Mainit in Rome when we'll be there eh. I'll be rummaging my closet for nice combinations so I won't need to buy anymore.
Apart from the best front camera I have ever since, one of the nicest features that I like with the OPPO F7 is the masks. No need to edit na after taking the photos. Upload na agad in our social media accounts.
So now, we're home watching movies in TV. I love how this weekend turned out. I really felt very special and spoiled. Happy Mother's Day to all moms out there too. I hope nagka-day-off kayo =) Cheers to motherhood!