For those of you who are asking, here is our 3 days, 2 nights Rome itinerary with some tips =)
Like I said, I booked our Amsterdam-Rome tickets through the EasyJet app. You pay via credit card and then everything is in the app. You'd just have to either print out the booking form or save it to you Apple ID. When you're in the airport, they'll just scan it whenever they need it.
Next, book your tour. I recommend Walks of Italy.
Next, book your accommodations. I recommend Magic Double. It's being managed by this feisty Filipina who I like very much for her funky attitude. Mababait sila there. They will pretty much leave you alone after you have checked in and after you have been given the key. Their rooms are very nice. The guest house is near the metro station and walking distance to the Colosseum. The room costs around 100 euro per night good for 2 pax pero let me know so I can endorse you to Ate Judy baka makakuha ng discount. There's breakfast na pero hindi formal like unlimited coffee, tea or water plus bread and other pastries.
DAY 1
We took the early flight and was at the Fiumicino airport by 1030am. After we have gotten our bags, we followed the signs to the bus station. You can buy your bus tickets there to Termini station which is their center. Do not expect to see the ruins when you go out of the airport. Mga 45 minutes to 1 hour drive pa yun. The bus leaves every 15 to 30 minutes. Sunod sunod naman so no need to be agitated.
When you arrive at the Termini station, you can walk to the hotel. You can take a cab if you are in another hotel.
Be careful kasi there are a lot of pickpockets in Rome. Bring a sling bag with you.
After check in, we had a quick lunch that we brought to the guest house.
Around 3pm, we started walking around Rome. Best if you know someone who can take you around. It's pretty much easy going around on your own. Their maps are very easy to follow. Lakad ka lang ng lakad.
Day 1 was spent going around the places na hindi kasama sa tour. Best if you go to Spanish steps, Castle Saint Angelo, Palatine Hill and Ponte Sant Angelo
DAY 2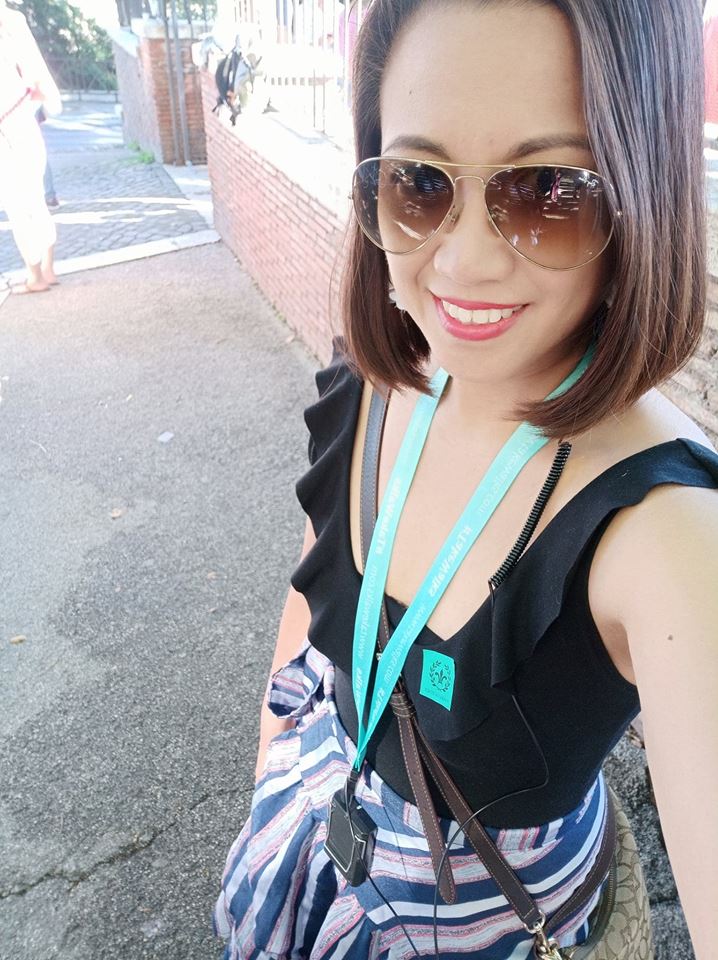 We were at the meeting point of the tour 1 hour before the scheduled day. Another tip is spot niyo na the day before where yung meeting place. It's just normally in that restaurant on top of the metro in front of the Colosseum.
Bring your best walking shoes ever. Be sure it fits you well para hindi sumakit paa niyo after. It's hot when we were there so best if you put sunblock. Wag niyo kaming gayahin. Ang negra ko now. Para akong nagbeach because we were walking around na napaka-init. Bring sunglasses. Bring sling bags. Bring water kasi ginto ang bottled water dun. One bottle of water costs 1.50 euro so around 90 pesos ang isa.
You. Will. Walk. A. Lot. Promise.
Here are the places included in the walking tour:
Colosseum -entrance fee is inluded already in the tour. You will skip the lines so winner kasi ang haba talaga ng pila papasok ng Colosseum
The Pantheon – Google this first before going para ma-amaze kayo more when you're there
Trevi Fountain- Don't forget to have a coin with you. Madaming tao dito. Mahirap makakuha ng decent photo. Watch out for your bags.
Roman Forum – Daan lang. Picture picture
Piazza Navona -There are three fountains there. Google niyo muna para maka-relate sa tour guid
Altar of the Fatherland- Dinaanan lang
Arch of Constantine- Again, google this first so you can relate with the tour guide
Piazza Venezia
Fontana de Quattro Fiumi
Parliament
Vatican Museum- Entrance fee is included in the tour. Skip the lines also so convenient
Sistine Chapel – No picture taking is allowed and you are also not allowed to talk inside. Napakadami nga lang pasaway ang sarap tuktukan. There are guards there though na mga tagasaway.
St. Peter's Basilica -See the Pieta by Michaelangelo. Check out the tomb of Pope John Paul II. Pray solemly at one of the altars there with the exposed blessed sacrament. Touch the toe of St. Peter's statue. See where St. Peter was apparently buried. Hindi sila sure na si St. Peter yun. They assumed it lang. See the detailed works of Michaelangelo and Bernini.
The tour guide left us at the St. Peter's Basilica without any instructions how to go back to the Colosseum. Buti na lang, Ate Judy taught us. You'd just have to buy your train tickets. Walk straight from Vatican to the nearest metro station, Ottaviano. Ride the train that will take you in the direction of Anagnina. You can go down the Colosseo station. Nasa Colosseum ka na niyan.
We were so freaking tired after the tour. My legs were ready to give up. We rested for an hour and a half and then went to have dinner at this Italian diner near where we were staying. When in Rome, you have to eat pizza, pasta and gelato.
We slept early that night kasi sobra talagang pagod. If kaya niyo pa, go back to the Colosseo and Trevi fountain because they look beautiful at night. It was quite hard when we went because 10pm na ang taas pa din ng araw. Hehe.
DAY 3
We woke up early so we can catch the 7am bus trip from Termini station to Fiumicino airport. Our flight back to Amsterdam was at 10am.
—————————————————————-
So there. That was our itinerary. My advice is for you to be in Rome for at least 4 days and 3 nights. There were so many places where we weren't able to go to. Next time, we'll come back pagdalaga-dalaga na si Anika para gets na niya everything.
I hope I was able to help!