There are no official photos yet but I am going to blog na already about my Mommy Mundo ExpoMom #Mompowerment talk yesterday about Working moms. It was soooo exciting!
The night before, while Alvin was out with his friends and Anika was already sleeping, I was in our kitchen practicing my talk. I hyperventilated because I felt hindi okay yung talk ko. It added to my crazy imagination that I would be speaking there without any audience! Tinulog ko nga, hindot na yan.
The next day, I was feeling a lot, lot better. Sabi ko, bahala na si batman.
Alvin, Anika and I went out of the house almost at the same time. Alvin had to go to CSA to attend the parent orientation. Anika and I went to meet up with MJ (one of my staff) so she can do my my make up. Faye, LT and little Isabel followed where Anika and I were.
They all liked my make up. Magaling si MJ. Partida, I was stressing her out because I had to leave na. Lelz. You can check her out at Instagram (@fablikeMJ and @MagicCreationsByMJ). Her rates are very reasonable too. I wanna tell taasan na niya PF niya because magaling talaga siya eh. Hehe.
Anyway, by 10am, we were all on our way to Alabang from Makati because my talk starts at 11am. Ang traffic! Nastress ako ng slight sa South Super Highway.
We arrived by 11am. Kasabay lang halos namin si Alvin. This is what I wore. I am very grateful that because you all liked the @style_ana17 skirts that I wore in Belgium and in Rome, she sent me this skirt as a gift! I didn't have to shop anymore for an oufit because the skirt was so fabulous!
I was having not only butterflies but the whole zoo inside my tummy before my talk. I told Alvin that I was so nervous! He told me I'll be fine.
When I went up the stage after Janice of Mommy Mundo introduced me, I panicked ng slight because ang konti lang ng tao seated in front of the stage! Good thing Faye, LT, Alvin and my officemate, Joan, was there.
Nung nakaka- 1/4 na ako nung talk, I noticed medyo dumadami dami na yung people seated. Vivian also arrived na. I loosened up a bit. I wished Wowa was there because she's the ultimate working mom. Kaso nasa Korea ang lola niyo. She called me before she left. She said bakit naman daw yung talk ko falls on the time na wala siya. I said talagang ganun hehe. Nakakahiya naman ipamove ang Expo Mom South 2018 bilang hindi ko naman personal event yun. Hahahaha! But she wished me well. I'll show her na lang the video because the Mommy Mundo team recorded everything.
I found this photo on my phone taken by Alvin while I was on stage. Ang cute ng mag-ama ko.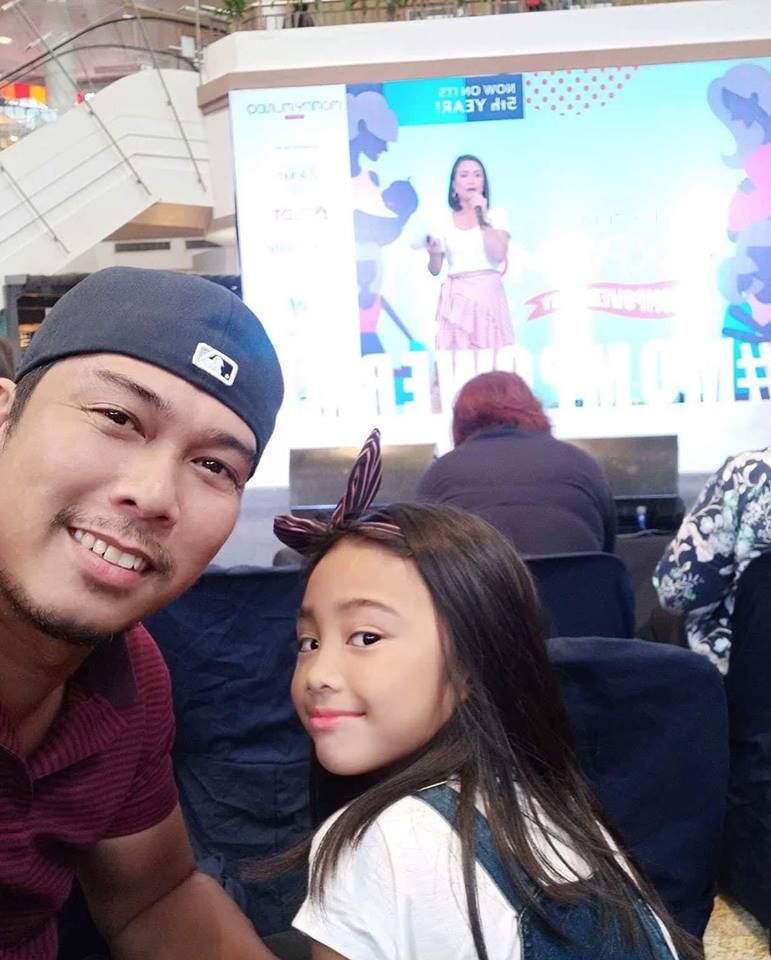 I finished in less than 30 minutes, I guess. I discussed 10 things a working mom should know. It pretty much covered everything that I wanted to say on how hard and the same time fulfilling it is to be a working mom.
All I can say is, it's easier to blog compared to actually giving a talk! Hahaha! But I enjoyed it very much and I want to do it again. Ang sarap ng feeling ng parang nagtuturo and the thought of people are learning from you. Ang sarap magkwento. I want that. Not necessary siguro about being a working mom lang, but about other topics that I am familiar about too. Let's see.
Thank you Vivian for coming! =) Thank you Janice for having me and for the trust.
Janis and her family arrived after I've given my talk. Hindi na talaga siya chumamba dumating on time sa mga ganitong ganap ko. Inis na inis ang lola mo. Hahahaha! She came and it's the thought that counts though.
Thank you so much LT and Faye for coming too. I really appreciate it. Thank you for the moral support. I really needed that nung time na yun.
Thank you also to my friends (hi Myka!) and readers who came. I wish I wasn't rushing after the talk. I wish we were able to stay pa and chat. Kaso I had to go to Makati pa because I committed to Brightbrands.ph that Anika and I will attend the Yumbox workshop at 2pm.
More about that event after this =)