Wowa arrived early this week from her South Korea trip. It was her first time to go there. She called me the day she arrived in Manila.
WOWA: Nana, grabe! Naka halos 50k ako sa mga binili ko para sa mukha natin!
ME: 50k?!?! Ano yang binili mo?!
Bumili ba kaya ito ng Radio Frequency machine para sa mukha?!
Take note, the products that I only made bilin were the following:
Mizon All In One Snail Repair Cream
Too Cool For School Egg Mellow Cream
Holika Holika Pig-nose Clear Blackhead 3-step Kit
Nature Republic Soothing & Moisture 92% Aloe Vera Soothing Gel
Klairs Supple Preparation Facial Toner
Low pH Good Morning Gel Cleanser\
Advanced Snail 96 Mucin Power Essence from CosRx
ME: Hindi mo binili yung mga sinabi ko lang?
WOWA: Hindi ko binili ang mga yan. Iba ang binili ko. Effective talaga ang mga ito. Niresearch ko pa sa internet.
ME: Paano mo naman nalaman na effective?
WOWA: Nagbilihan yung mga kasamahan ko eh. Tapos ginamit nila agad. Kinabukasan ang gaganda talaga ng mga kutis nila eh.
Weh?! Magaganda na sila agad agad after one application?! Kung sa bagay, sa halagang 50k, I am expecting maging kamukha ko na si Lucy Torres the next day.
ME: Anong brand yan? Hindi mo binili yung mga sinabi kong brand?
WOWA: Ang mura lang nung mga sinabi mo eh. Hindi magaganda yun. Etong binili ko, magaganda talaga. Google mo, dali! UVG.
ME: UBG?
WOWA: Mali. V as in victory, hindi B.
I googled it and didn't find anything under UVG. Patay na kako. Wala naman sa internet ang binili ni Wowa. Napaka-mahal pa naman.
And then I found the UGB brand.
Ayun pala. UGB, not UVG.
Kinabahan naman ako ng slight.
So I went to her condo to pick up the pasalubong.
WOWA (upon seeing me): Super effective talaga. Tingnan mo skin ko ngayon. Ang ganda di ba?
ME: Ma, hindi ikaw ang magandang model para diyan. Ang ganda na talaga ng kutis mo eh. Pag ang mga ito talaga napaganda skin ko, bilib na ako.
I have really dry skin. Parang I have to put on moisturizer every 30 minutes para magmoisturize. This is a problem because if you have dry skin, you get wrinkles agad. Ang expressive pa naman ng face ko. Hindi ko kaya yung deadma face so imagine the lines.
Let's see if UGB will do miracles. According to my research (from Coos-Cosmetics.com):
UGB is one of the best selling brands of Korea Skincare. The products are formulated with professional knowledge and advanced technology by both Korea and Japan. They are identified as Natural Skin Care. They are manufactured in Korea and imported power which is suitable for the oriental market.
The main ingredients are rich in Botanical and Ginseng extracts that accelerate blood circulation and improve the delivery of physiologically active ingredients deep into the skin. They are natural ingredients for whitening and moisturizing are good. It softens the skin and soothes sensitive skin comfortable and clean in the velvet texture.
I hope it's compatible to my skin bilang hindi ako pwede sa matatapang na eklaver for the fez.
She wasn't kidding though when she said she bought a lot. Ang dami talaga! She bought 2 of everything para tig-isa kami. I couldn't almost carry with one hand the paper bag full of her loot.
I'll show them to you as soon as I can ha? I'll try to do a video about it.
Sana gumanda ako ng ganito din after I use the products. Hahahaha!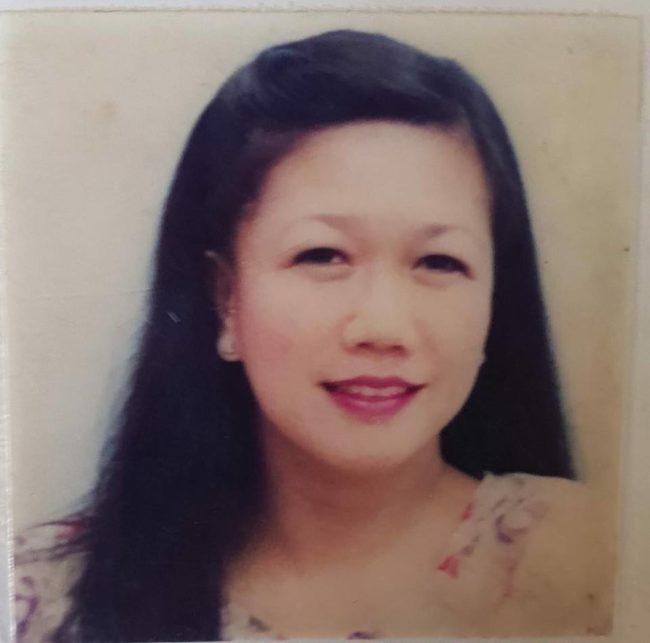 Speaking of Wowa, she picked up Anika kanina at school.
Our varsity volleyball coach, who is also Anika's godmother, called me around 10am. Anika has fever daw and I have to pick her up. Eh nasa Tagaytay talaga ako for an ocular inspection while si Alvin naman ay nasa ilalim ng barko. When I called Wowa, she was cooking laing daw and doing the laundry. Sabi ko walang susundo kay Anika. Ayun, naligo and gumorabelles to Anika's school. Nakapagdala pa ng Laing for Coach. Lelz.
Ito ang mga times that I am very thankful she's retired na. Dumami ang aking back up plan.
Osha, I'll sleep na.
Good night everyone!