Hi guys. I'm Anika Summer R Sombrero. I am 8 years old. I study in csa. At school it was our un or united nation  day. I was dressed as a mecsican (Mexican) girl. My nanay brought me to school and she took photos of me after we went to the church. And i went to my classroom and me and my classmates were having so much fun and our adviser was in a Japanese costume. And after we had english and science time. Not at the same time ok and i went to the clinic after we took our photo for UN. There was no parade so i went to the clinic  because my head was hurting  and my temperature was 37.9 so i had a fever so i drank tempra and ninang or coach vita went to me and after a few minutes i got my things from the classroom. I waited for my  nanay  in  the clinic. She fetched me and we ate at lola idang's and i went home and slept for 3 houers. Me and my nanay and tatay are watching hellboy part 1 and 2 now and after part 1, i started to blog like my nanay  and now we are watching hellboy 2 and my lola is here to sleep here. and we are gonna eat dinner and i am gonna sleep na so thats the end. I dont know if I'm going to school tom.  and my nanay is gonna make me some  lemon water if we have lemon!!!!!!
———————————————————–
So cute ano? Anika took over my blog for a bit to tell you about her day.  I corrected her spelling ng slight so you can understand her. She'll start daw a blog as soon as she knows how to spell very well. Go. Ariba.
So last week, I was looking for a UN costume for her. Her previous yaya left na and she took with her the knowledge san niya pinagtatago yung mga costumes ni Anika dati. Kaloka. Hindi ko tuloy makita. I didn't want to buy her a new costume because sayang nga naman sabi ni Pineda kasi once lang gagamitin. Buti na lang, I found this costume she wore…. wait for it…
..when she was in Senior Kinder!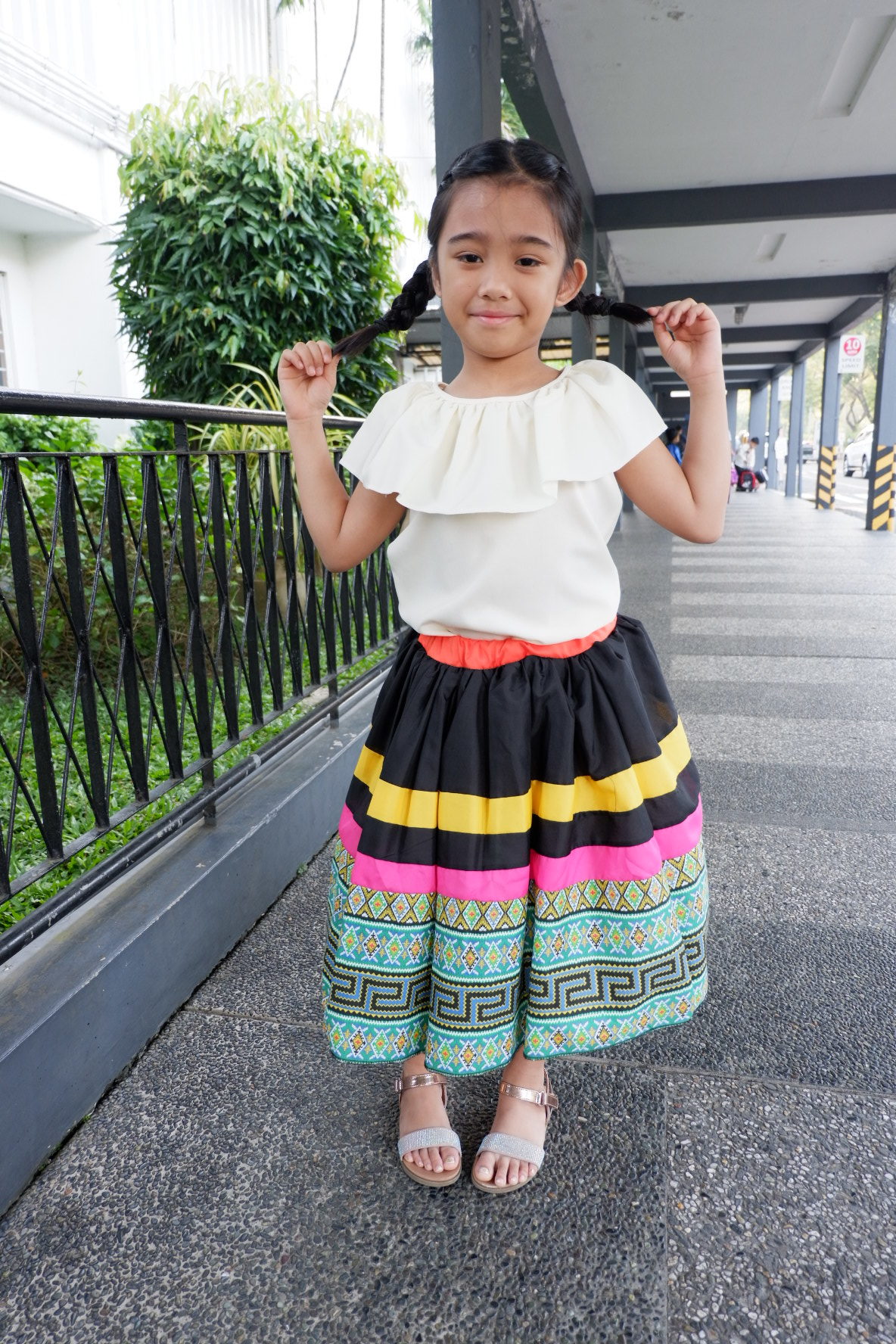 Kasya pa! Hindi ko alam kung matutuwa ako or malulungkot kasi hindi siya lumaki in 2 and a half years?!
This was how it fit her when she was in SK.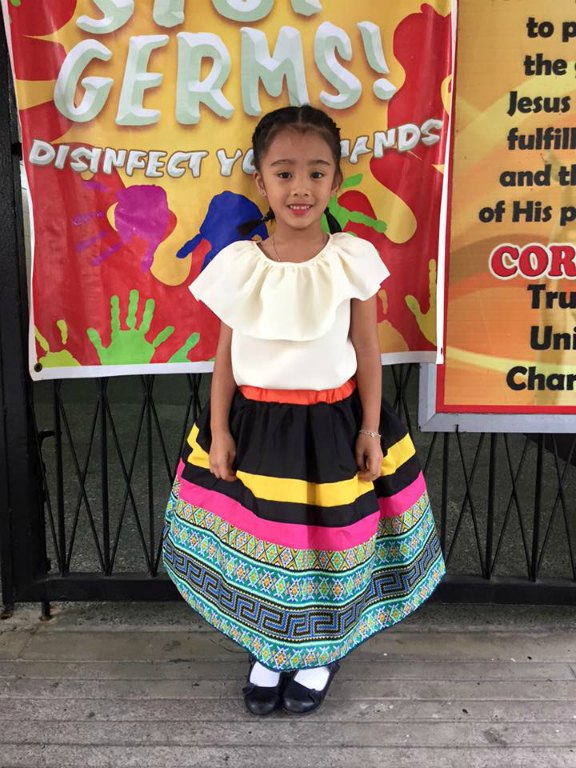 Mukha naman pala malaki talaga sa kanya dati. Lelz.
She wore it for their field demo.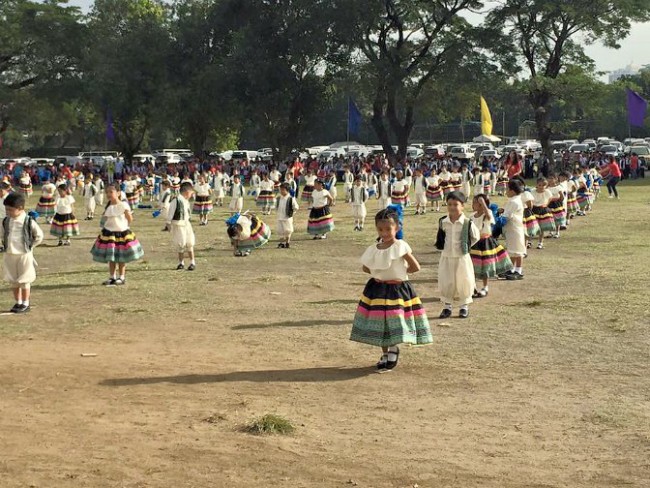 I happy because it was made in good quality. I don't know where the teachers had that made pero buong batch nila ganyan. We paid them na lang and got the costumes afterwards. Sulit naman.
Ayun na nga, I brought Anika to school today. When she woke up this morning, Alvin told her not to go to school muna because she had low grade fever last night. Umiyak. Gusto daw niya magschool because she wanted to wear her costume plus it was her English oral test today. Ayun pinayagan ng Tatay.
On my way to the first project that I had to visit, kinutuban na ako. Magpapasundo ko si Anika in the middle of the day.
My #Momtuition was correct.
When I was at the walkthrough, around 1030am, tumawag ang Alvin. The school clinic called him daw. They were asking if Anika can be picked up na. 37.9 degrees Celsius daw yung fever. I asked if pinapauwi na ba or papainumin lang ng paracetamol then rest. I'll ask kako the clinic. Before I can call, Coach Vita called me. Sunduin ko na daw. Pinapauwi na daw ng school yung mga ganun. So I finished the walkthrough and picked Anika up. We had lunch at Lola Idangs and took her home. I napped for a few minutes and then went naman to another project site for another meeting/walkthrough.
Before you judge me, wala nang fever si Anika by the time I picked her up in school. Ang daldal na. I asked permission from her if I can go to our site and be back later in the afternoon. Okay daw. I was home na before magdilim.
A working mom is like that. Through the years, I learned not to panic and be over acting about everything. Kung ako yan dati, nagmamadali na ako magpunta sa school with palpitations plus hindi na ako aalis sa bahay afterwards. But I learned that a working mom can balance everything. Hindi ka kailangan panic mode sa lahat ng pagkakataon. Iiksi buhay mo, ateng. Relax. Like today, I didn't rush to her school when I picked her up. Anika was in the clinic with a low grade fever. There were nurses there and a doctor. She was resting in a very comfortable bed. I was able to finish my first walkthrough. On our way home, I saw she was feeling better. Ang dami pang kinain for lunch. Before we napped ng sabay, I asked her if it's okay if I go to our nearby project very quick. She said yes. We raised Anika to say what she really feels so when she says okay, okay talaga yun. I left while she was napping. Nagmeeting and walkthrough ako. I was back home ng may araw pa. Alvin was already home and Anika was fine. I was able to balance things. O di ba? We, working moms, can do it like this. Hindi natin kailangan mabuang all the time. Pwede chill lang and the same time do the things that we need to do both in and out of the house. You should just know how to pick lang ano ipra-prioritize. To the new working moms out there, don't worry, mapagaaralan niyo din yan over time.
Speaking of sick, eto sick na again ang Anika. Grabe her cough and colds. For sure, she got it in school because sa few weeks back, she was telling me about how a lot of her classmates and busmates daw are coughing. Alam na. It's just frustrating because she eats well. She takes vitamins but ang hina ng resistensya. Grrrrr.
Osha, get well soon to the other kids out there.
Happy mid-week mga bakla.