Christmas is just 39 days away! Can you believe it?! Paulit ulit na lang ako pero ang bilis talaga ng panahon. One year na din kami here sa new house namin. Looking around, I feel that the house still looks like we just moved in. But that's for another blog entry.
Anyway, we set up the tree last week. I'm sticking to my white and gold Christmas tree theme. Do you remember that since Alvin and I got married, I change color theme every year? Magastos mga bakla and it takes up so much storage space. Two or three years ago, when I tried the white and gold theme, I fell in love with it to a point na pinaulit ulit ko na. It's a color combination na hindi ako nagsasawa. Okay din because at least Anika has something to expect every year. I'll just buy new decors to update the borloloy that I have now. Si Anika may hanash ng slight.
ANIKA: Nanay, I want to feel as happy again as I was in Christmas when I was 4 years old.
May ganun?!
ME: Why? Where were we when you were 4?
ANIKA: We were in our old house near here and there were a lot of Christmas lights and a lot of Santa Claus in the house. After that kasi, no more decors na masyado eh. Parang hindi happy.
Oh, she meant the Christmas before that big shitty thing that happened to us.
I didn't realize gaano ka-grabe that affected us. Pati pala yung holiday decors ko naging matamlay. Anika was feeling it all this time. After hearing what she said, I called Alvin immediately. I told him about what Anika said and told him to install those freaking Christmas lights immediately! The more, the better. Alvin agreed. I hope he gets them up before the actual Christmas day. Lelz. Sobra niyang busy. This weekend I plan to shop for more Christmas decors. Maybe we'll get a new parol. I'll make our house as festive as I can. Abangan niyo ha?
Speaking of Christmas, have you started gift shopping already? Ako konti pa lang. Puros online purchases because alam niyo na, #WorkIsLife nowadays. I seriously cannot find time to have a facial or a pedicure much less pa a trip sana to a mall. The free time I have from work, I spend with Anika and all the errands that needed to be done.
To help other mommas who can relate to me, I listed down some of my suggested gifts for this year. Sana makatulong. Check it out baka may feel kayo diyan. Just click the link to be able to go to their online store.
YUMBOX FROM BRIGHTBRANDS.PH
For your kids, favorite nephew or niece or for your inaanaks.
This is my and Anika's favorite lunchbox #alamniyonayan. Even though I don't post the #AnikasBaonToday everyday, I still prepare Anika's school baon every morning. Hindi na siya kasing arte like how I do it when Anika was in first and second grade, but it's still made out of love. Ikaw nga, gumising ng extra early to prepare a baon even though may help naman to do it, I think that's really love. I don't decorate Anika's baon that much anymore because hindi na siya mahirap pakainin (puwera usog). The quality of the baon is more important now than how it looks. Nevertheless, patok pa din this lunchbox because it's cute and because of all it's compartments.
MYKA LIMCHOC TOPS
For your sisters, bestfriends and fashionista titas
I placed this on my list because I am positive that you can never go wrong with a cowl neck Myka Limchoc top. They're perfect for the office, weekends, casual, formal and for your travels. Given that everything is free size, you won't get stressed anymore in finding out the sizes of the person you want to give it too.
CHEESECAKE ON STICK BY CAKES BY K
For your officemates
This New York cheesecake covered with chocolate with almonds and marshmallows is so good! Ang creamy ng cheesecake. Hindi masakit sa throat yung tamis ng chocolate. And the almonds and marshmallows complement this dessert well. Perfect gift ito sa pang maramihan. You can order it by box too if you'll be giving it to someone extra special =) You can message Alvin's cousin Nessie in Instagram (@clumsynessie) or through their Cakes By Karlo IG as well =)
SWIMSUITS FROM LITTLE KOKOMEEE
For your cute nieces or goddaughters
Adorbs di ba? I'm wondering nga why they don't have it my size sana so Anika and I can go twinning on the beach. Lelz. The best part about these cute swimsuits? They're really affordable so you can get a lot of different designs for one little girl. After ng Christmas, favorite Tita ka na nila. Hehe.
DRESSES FROM KOKO AND VAN
For your girlfriends and all other fashyon girls you know in your life
I hoarded already so why don't you? Hahahaha! Ang cute ng mga dresses and tops nila eh. You have to know that the style, color and quality were carefully checked before they sell it. Okay yan because I have a lot of bad experiences with some online sellers na talaga naman mapapakamot ka na lang sa ulo pagdating sayo ng orders mo. Koko And Van has styles of dresses for every kind of body type kaya parang one time shop na din siya. Ang pangit lang dito, the clothes that they're selling are so nice na instead of buying for my friends and family, pati ikaw mapapagastos for the clothes you'll buy for yourself. Lelz! =))
HAIR PIECES FROM M + K = A
For your daughters and kikay nieces
If you are to ask me what I want you to gift Anika, it will not be toys. I want her to be gifted with pajamas, underwear, small bags, cute water bottles, DIY stuff that she can do, game boardcolored pens, art stuff and hair pieces. Since Anika was a toddler, she has been wearing pretty ribbons from M + K = A. The quality is really good. Malalaman niyo that the clips were made by a mother kasi safety was incorporated in the design. There are no sharp edges and hindi siya masakit iipit sa hair nila.
SALSA DIP FROM MY SWEET FAIRY
For the amigas and titos and titas
You have seen the video. You've watched paano namin nilantakan tong salsa dip of My Sweet Fairy. Hahahaha. Ang sarap eh. It really does goes well with the nachos. I eat this with my favorite Doritos. Wala. Fly away ang diet after.
EARRINGS FROM FRANC & ANDIE
For your mom, sister, cousin, bestfriend, aunt, grandmom
Gaganda di ba? I wore a kabog pair when we watched ballet last year.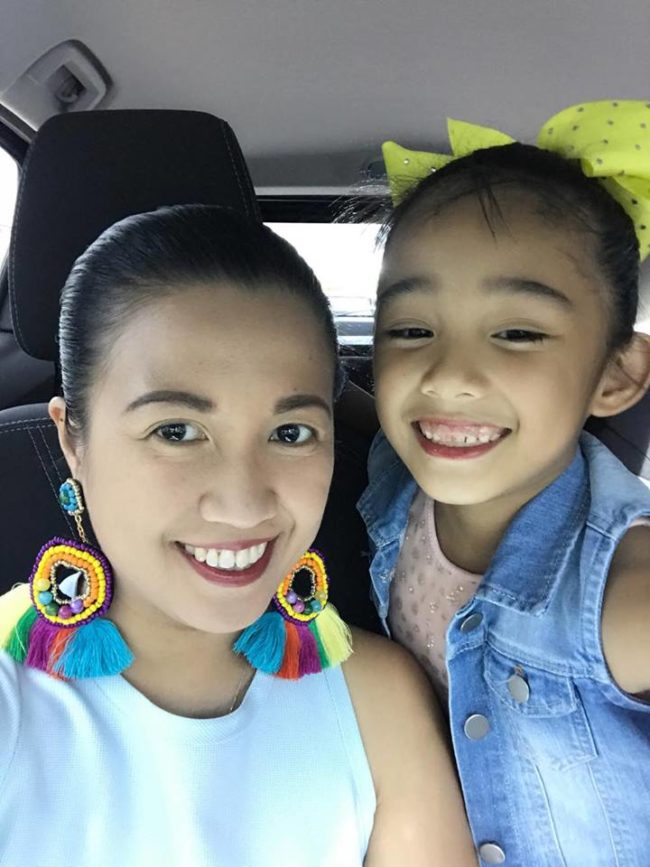 I have to stress the impact of wearing a nice pair of earrings. Kahit na white T-shirt ka lang and jeans, suotan mo ng bonggang earrings, it instantly ups your outfit. This is the reason why any kikay girl will appreciate earrings as gifts lalo na if it's from Franc and Andie. Ang affordable pa niya so you can give more than a pair. Saya!
That's it for the first part of my Christmas gifts ideas for this year.
I need to get more ideas for baby boys and men naman. Do you have recommendations for my part 2? Let me know ha because sharing is caring! =)