Alvin took Anika and me to SM Sucat last weekend. He wanted to have some stickers made for his guitar.
Yeah. Hindi matched ang Robin Padilla image niya sa stickers pero happy naman siya so we let him be. Lol.
It was 30 minutes to closing time when we walked past this store.
Almost at the same time,
ANIKA: Oh my God, Nanay! Isn't that–?!
ME: Oh my God! That's the store we saw in Instagram!
ME: Shall we go in?!
ANIKA (shouting and jumping up and down): Of course!
Then she ran to the store with me running also behind her.
I glanced back at Alvin. He was shaking his head.
From the Miniso Facebook page: 
Headquartered in Tokyo, MINISO was jointly founded by Miyake Jyunya, the chief designer of MINISO, and Ye Guofu, the young Chinese entrepreneur. MINISO advocates a fashionable and relaxed lifestyle and directs a superior products consumption pattern.
MINISO pursues a "simple, natural and quality" life philosophy and a brand proposition of "simplicity and going back to the essence".
MINISO has been expanding globally since its establishment in 2013. It has opened more than 1,600 stores around the world and dedicates itself to providing customers with quality, creative and low-price products. MINISO always persists in selecting fine materials from all over the world. Over 80% of the brand's product designs originated from Japan, Korea, Singapore, Malaysia, China and other countries. Its simple, natural and fashionable commodities are popular among people aged between 18 and 35.
Consequently, MINISO also creates a new business style, which combines fashion and leisure together, becoming a main force in the department stores and shopping centers. Realizing its advocacy of "fast fashion" towards quality life, the brand focuses on building a brand new recreational shopping atmosphere so that customers can experience a happy, fashionable and sound lifestyle in MINISO.
To make it short, Miniso is filled with cute and adorable products that you do not need but want to buy. This is a very dangerous place for people like me who have low EQ when it comes to shopping.
Anika and I went from aisle to aisle to check out all products. We ooohhh'd and aahhh'd almost at the same time. If somebody was listening to us, ma-aaliw siguro. Para kaming mga loka loka. Majority of the items were priced below Php 100. Yung mga priced more are the items na dapat naman priced more like the speakers, head phones etc.
Check out this cute pouch for your eklavers in life.
To my singkit blog readers, they have the double-fold eyelids tape.
This frog soap holder was so cute.
I want these elephant fridge magnets. I wanted to get a lot for the house and my office.
Anika wanted to get this toothbrush holder. I told her wag na kasi wala naman baby brother. Basag trip. Hahaha! She wanted to get the Lolo and Lola toothbrush holders for her grandparents.
These bags were being sold at Php 449 only. They look soshal without any labels whatsoever.
Like I said, matataba ang utak ng mga hapon. These are DIY compressed faced masks tablets. You can use this with the tira-tirang essence niyo when you open and use your favorite face mask. Galing ano? Tipid and sulit mode!
Before we knew it, they were already closing the lights in inside the store. Closing time na! Anika started crying 'coz she thought they will be locking us in the store.
ANIKA: Let's go na Nanay!
ME: Wait sweetheart. Look at all these pretty things. We haven't even checked out the bath and electronics stuff!
ANIKA: Stop shopping now! I don't want to sleep here!
Exage.
She was kinda making a scene na so I rushed and got na lang stuff quickly. Here are the items that I got.
Anika's eye cover which she always uses every night now. It has a gel thing inside that you can put inside the fridge for a while and then put it back in the eye cover. Ang sarap and relaxing gamitin.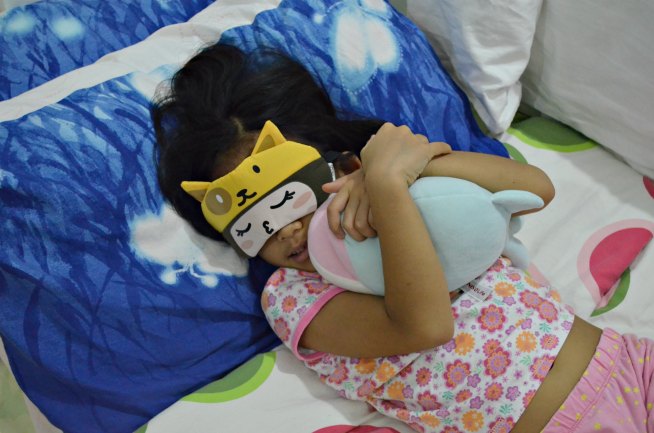 Anika also got a plushie. There were so many cute plushies there to choose from. Anika chose this fish with fish lips. It's perfect for Anika because it's not mabalahibo which is bad for her.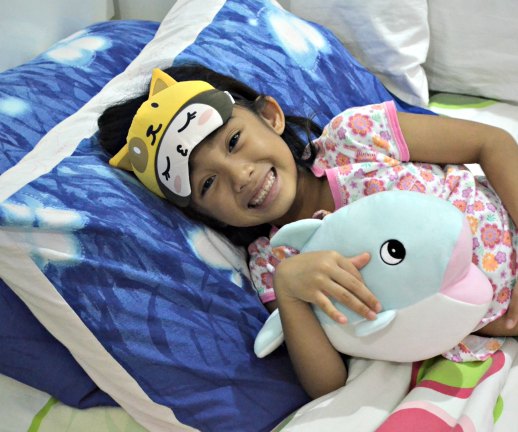 I got myself these make up remover cotton pads.
I also got these make up sponge. Isa lang naman talaga ang kailangan ko pero walang tingi dun. Besides, the more, the merrier so keribelles na siya at Php 98.
I have no idea why I picked this up but after using it for a while now, I am loving it. It's not rough to the skin unlike loofas.
It comes in packs of two with a casing at Php 98 only so again, sulit pa din.
Yuh. That's it.
But do not worry, I shall go back. Opening pa lang, I will make sure I'll be there na. I will post more photos of what you can find at Miniso =)